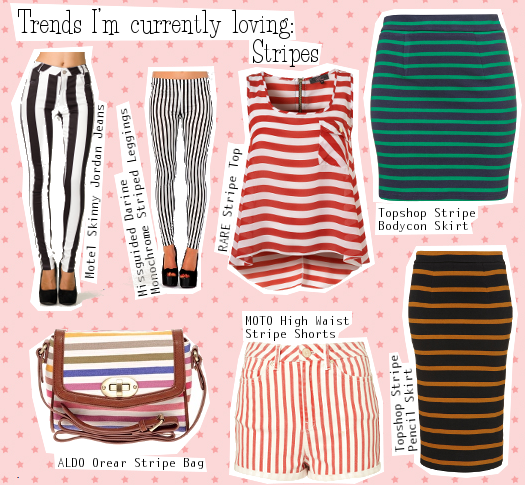 Motel: Skinny Jordan Jeans - £48
Missguided: Darine Monochrome Stripe Leggings - £9.99
Topshop: RARE Stripe Pocket Top - £36, Stripe Mini Bodycon Skirt - £25, Striped Pencil Skirt - £28, MOTO High Waisted Stripe Shorts £32
ASOS: ALDO Orear Stripe Bag - £35
I have always loved stripes and despite them being the 'trend' every Spring/Summer, I wear them all year round. At the moment I'm loving the different coloured stripes that have come out, as opposed to the usual nautical style blue/navy and white.
I'm loving the stripey shorts and skirts from Topshop and am definitely going to be trying to work something similar into my own wardrobe, but perhaps at a cheaper price. In particular, black and white stripes are huge right now but I'm not so sure I could pull of some jeans or leggings. I'm only used to wearing stripes as a top or a dress!
I tend to pair anything stripey with something plain. For instance I wear most of my striped tops with plain skinny jeans or a plain skirt. I always think it's better to play it safe instead of mixing up another pattern in there as well.
What do you all think of stripes? In particular, the new Beetlejuice stripe trend?