I can't believe I haven't blogged in so long! I just haven't found a spare half an hour or so to get everything written up! Luckily, today I've got the day off and thought I'd get a post up before I meet my sister for some shopping fun!
Before I get on with the Wednesday Wishlist, I want to tell you all that I won Desire Clothing's Britain's Best Blogger Competition! I posted my entry about two weeks ago
HERE
and I can't believe I was actually picked!! I won a £50 voucher and have had such trouble picking what I want! I'm going to dedicate an entire post to it when I've finally chosen! Now, onto today's Wishlist!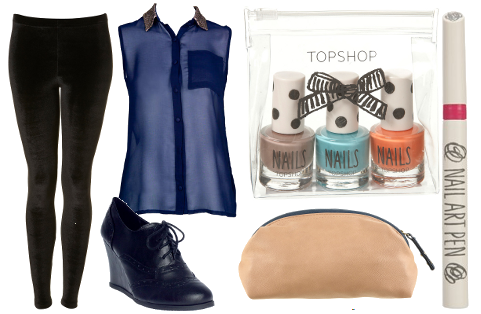 Topshop: Velvet Ankle Leggings, Nail Art Pen, Nail Polish Set, Make-Up Bag
Desire Clothing: Brogue Wedges, Gold Sequin Collar Shirt
The words Velvet and Leggings probably shouldn't go in the same sentence, but although they don't sound right together, they do look rather right, which is why these Topshop Velvet Leggings are on my wishlist. Something a bit different from my usual leggings, which I'm really bored of. I definitely think I need to try before I buy with these though!
The Desire Clothing Gold Sequin Collar Shirt was on my prize wishlist, but I opted for the red version instead. However, I'm still really keen on the blue and once I recieve my prize I might consider getting this colour as well.
I've also asked for the Brogue Wedges but I'm worried they won't have my size, which is a 4. I can sometimes get into size 5's but am not sure whether to risk it or not!
I don't know about you, but I thought the Topshop Nail Art Pens were due on sale yesterday, so I popped on my iPad before work to quickly buy some and they were nowhere to be seen! They're not online today either so I'm getting a bit impatient now!
Topshop have some great Christmas gift ideas and stocking fillers. Their Set of 3 Nail Polishes are so cute and great stocking fillers. Unfortunately I don't get a stocking anymore so I'll probably buy them myself! Also really love the Pale Pink Make-Up Bag for only £8 which I definitely need as I'm getting annoyed with all my products taking up space in my bedroom!
I really must have a shower and get ready now! I only have £30 to play with in town and still need to get a whole load of Christmas presents, but most of all I'm looking forward to seeing my Niece and having a nice cup of tea somewhere! Ciao!