So, with only a matter of hours until the end of December, it was time to pull out the old 'monthly favourites' post. I think December has been a great month for products, what with the best Glossybox of the year and the release of Topshop's Nail Art pens!
I'm spending New Year's Eve at work during the day, but at Vince's for the evening. It's kind of become a tradition now for me to go to Vince's and his mum always does a great buffet! Unfortunately I start work at 9am on Sunday so it won't be too much of a late night and probably no drinking, but as long as there's food, I'm not really fussed!
Anyway, on to the faves!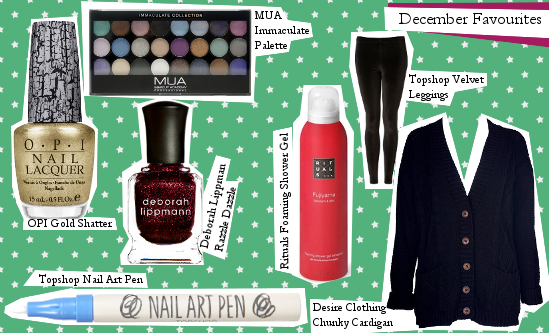 December Jolie Box: OPI Gold Shatter
December Glossybox: Deborah Lippman Razzle Dazzle, Rituals Foaming Shower Gel
Topshop: Nail Art Pen, Velvet Leggings
Desire Clothing: Chunky Knit Cardigan
MUA: Immaculate Palette
Thought I'd do something a bit different this month and put all the images together in one graphic. I'm annoying myself by always posting image after image, this way it's a bit more interesting and I even decided to add some of my favourite clothing items from December as well!
This months beauty boxes were great for nail polishes and the Deborah Lippman and OPI Gold Shatter are new favourites! The OPI shatter was probably the best product in the Joliebox actually!
I haven't reviewed my Immaculate palette yet, but I promise I'm getting round to it! As for the Nail Art pens from Topshop, I think you can tell by now that I'm a huge fan!
What have your favourite products been this month? I wonder what January will bring? I'm sure I'll pick up a few new bits and pieces in the sales!
Have a great New Year everyone!