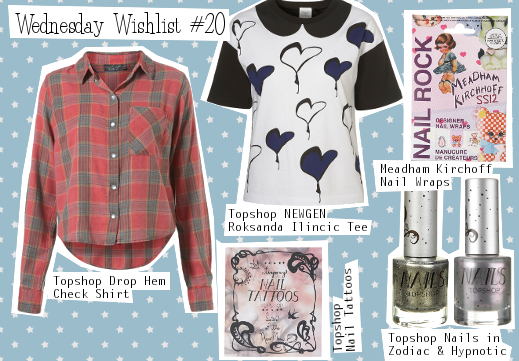 Topshop: Drop Hem Check Shirt - £28, Heart Print Tee by Roksanda Ilincic - £30, Meadham Kirchhoff Nail Wraps - £7, Sisters of the New Moon Nail Tattoos - £7, Sisters of the New Moon Nail Polishes in Zodiac & Hypnotic - £6.50
Seems like check shirts are back again, typical after I've just got rid of one that I brought last time around. I spotted the Drop Hem Check Shirt in store not long ago and the material is lovely and soft! I like the kind of faded colours on it so I definitely think I'll be buying this sometime soon!
I recently spotted the new NEWGEN collection available on Topshop.com and the Heart Print Tee by Roksanda Ilincic is probably the main one that caught my eye, and the only one I'd probably wear. They're a tad expensive though at £30, so I'm not too sure whether I'll be purchasing or not! I'd have to try it on in store first!
I really wish I'd brought the Meadham Kirchhoff Nail Wraps when they were in stock. I don't know if they're coming into stock at all or not but I'm desperate to try them!
I'm loving the new Sisters of the New Moon collection that has recently become available online. The packaging is just gorgeous and I really want to try their new nail polishes and nail tattoos! Again, I want to see the products in store before buying, but I can safely say I need them in my life!
What do you think of this weeks choices? That check shirt is calling me...