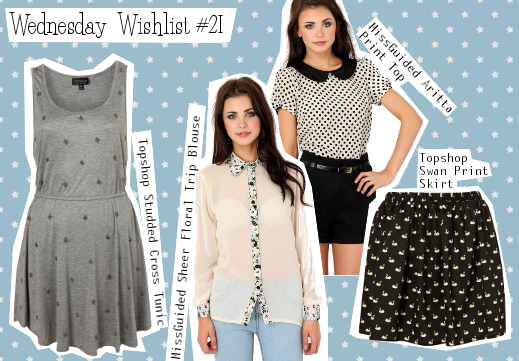 Topshop: Studded Cross Tunic - £32, Swan Print Skirt - £30
Missguided: Aritta Polka Dot Top - £19.99, Adonela Sheer Floral Trim Blouse £19.99
A really simple wishlist this week! I get so bored of my wardrobe so easily so I just wanted to find a few extra additions! I really love the Studded Cross Tunic, it's just so simple and I love the small cross details. I'm not keen on showing my shoulders so I'd probably wear some sort of light cardigan over the top!
The Missguided Aritta Polka Dot Top and the Adonela Sheer Floral Trim Blouse were both tops that really caught my eye! I actually ordered the polka dot top instantly! Oops! I'd really like to try a blouse like the floral trimmed one, it's very tailored and straight and not what I'm used to. I'll have to try and find one instore to see if that sort of style suits me!
The Topshop Swan Print Skirt is just a cute skirt that I spotted when browsing the 'new in' section of the website. I absolutely love all of the prints that are around at the moment, I'll definitely have to try and find this in store.
What do you think of this week's choices?