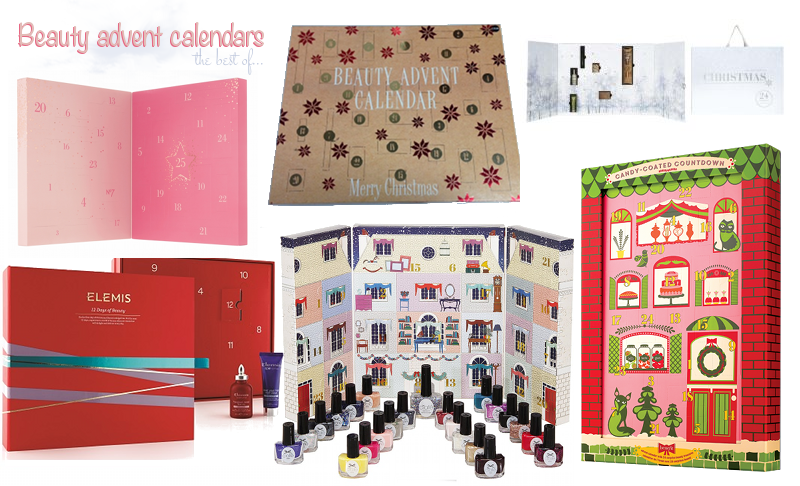 It's coming up to that time of the year…advent! As a kid I used to love having a chocolate advent calendar to open every day. These days I'm more into beauty advent calendars than chocolate ones so I decided to put together a post about the best of the bunch. Hopefully you can pick one of for yourself if they haven't already sold out!
I have to admit, the only beauty calendar I've ever had is one of the Ciate ones. I'd love to have one of the Benefit ones or one of the highstreet beauty ones though. Let's hope I can get my hands on one before December 1.
Primark beauty advent calendar - £15
I keep spotting this in store and I always pick it up and put it back. I guess this is the most bargainous advent calendar on the market at the moment at a mere £15. It contains a selection of Primark beauty goodies including nail polishes and manicure accessories. It's a really great option if you're on a budget. There's also a jewellery version full of earrings, necklaces, bracelets and more.
Tesco Advent Calendar - £50
From what I can see this is the only beauty advent calendar from any of the supermarkets. Tesco has really upped their game this year when it comes to all things beauty. While £50 is a tad on the expensive side, it is totally worth it as you actually get £125 worth of gifts inside throughout December. Brands include Nip & Fab, Tanya Burr and Baylis & Harding.
Elemis - £59.50
This is probably the most luxurious calendar out there, full of beautiful Elemis treats. This one is only actually for 12 days so can be used in the run up to or even after Christmas. It might be a good idea to use the treats in the 12 days following Christmas as a bit of a treat for the skin after all that food and chocolate. The calendar contains some of Elemis' most well-known products including the Pro-Collagen Marine Cream and the Cellular Recovery Skin Bliss Capsules.
Benefit Candy Coated Countdown - £60
Unfortunately I believe the Benefit advent calendar is sold out but if you do happen to get your hands on it somehow then you're in for a whole host of Benefit goodies including the POREfessional, BADgal lash, Fake up, Posie tint and a few cute bits and pieces such as a hair band, funky paperclips and a doodle pad. At £60 this is probably one of the most expensive out there and I'm not surprised it's already sold out as they are always so popular.
No7 Beauty Calendar - £35
I've seen this one in Boots stores quite regularly. Although it is sold out online I think you might find the odd one or two still available in stores. I really wish I had picked this up when I saw it as I love No7 skincare so this is right up my street.
This is actually the first time No7 has brought out a calendar and they've done such a great job. The goodies inside total £135 so you're really getting your money's worth here.
Ciate Mini Mani Manor - £49
The Ciate advent calendars are always one of my faves. Last year I picked up the calendar at The Clothes Show for a mere £10 and I absolutely loved opening the door every day to find a cute mini polish. Ciate is a great brand and its polishes are really great quality and you'll be treated to a full size version on the big day.
What beauty advent calendars will you be opening this year? Let me know in the comments.