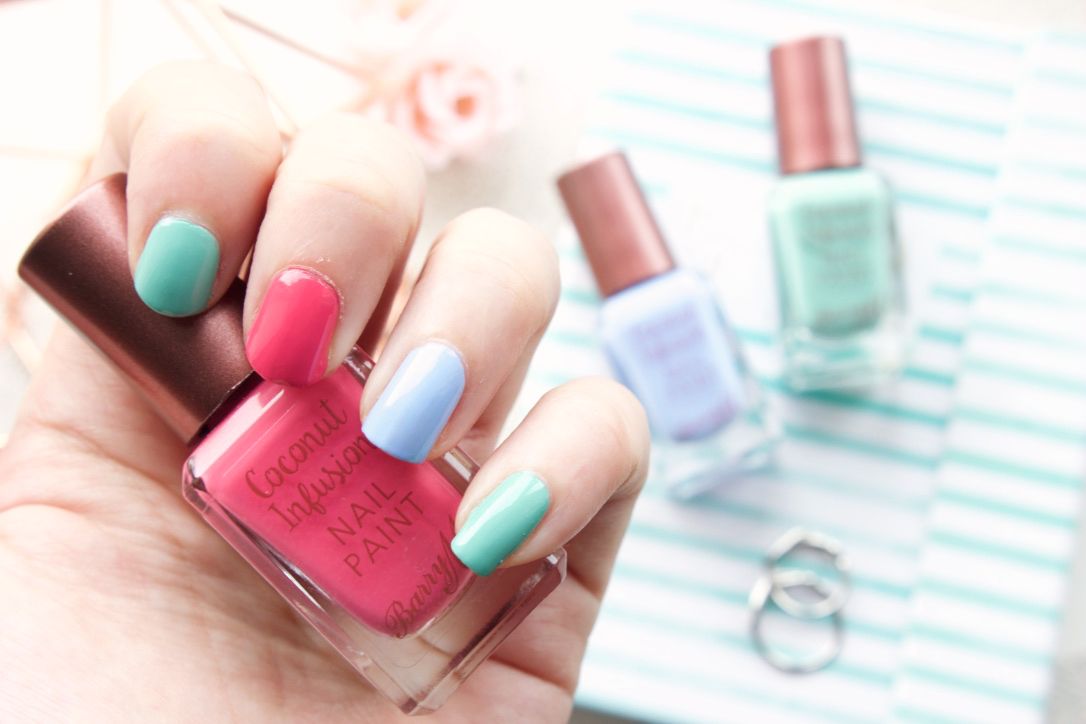 When I saw Barry M's announcement about its Coconut Infusions range it was April 1...I thought it was an April Fool's joke but one of those ones where you think to yourself that actually it would make a pretty good product, like that mood changing nail polish joke from last year, so when I saw that the range had actually launched I couldn't believe it. As soon as I realised it was real I ordered myself a couple of shades from the new collection.
The benefits of coconut oil are pretty widely known by now so why not pop coconut water and oil into a nail polish to help nourish and hydrate our nails? I'm surprised it's not been done before to be honest!
The range comes in nine different bright, fun spring shades: Flamingo, Tiki Hut, Aloha, Sunkissed, Bikini, Starfish, Surfboard, Skinny Dip and Laguna and are priced at £4.99 each. I popped into Superdrug and they were already on three for two and if you spend over a certain amount you get a free makeup bag too!
I definitely feel like I picked up the best shades of the range. They are so bright and cheerful, Aloha in particular is an almost flourescent/neon pink while Laguna is an almost pastel lilac/blue shade and Bikini is a pretty minty shade. These three really stood out to me in the collection and I think they work really well together too, complimenting eachother perfectly. I think the shade Flamingo would be a great one as well. They're perfect for spring and for bringing a bit of colour and cheer to your life.
I thought Laguna and Bikini might be a little thin because they're such light colours but they weren't at all. All of the shades were a tiny bit thicker than most thanks to all that delicious coconut within. They're wonderful to apply and the super wide brush makes it SO easy. They dried really quickly and all have a lovely shiny finish to them. They're quite similar to the Gelly polishes when it comes to application and finish but they have a slightly nicer scent to them, although disappointingly it's not a coconut one!
I did pop a top coat on these just as a bit of added protection but the finish is definitely shiny enough that you don't really need one.
This is by far my favourite Barry M release so far this year and I thought they wouldn't be able to top the likes of the
Gelly Spring Collection
and
Speedy Spring Collection
but they've really surpassed them! I am definitely going to be picking up a couple of the other shades in the range, I'd love to give Flamingo a go and a couple of the more nude/beige shades.
What do you think of Barry M's new Coconut Infusions range? Let me know your thoughts in the comments.