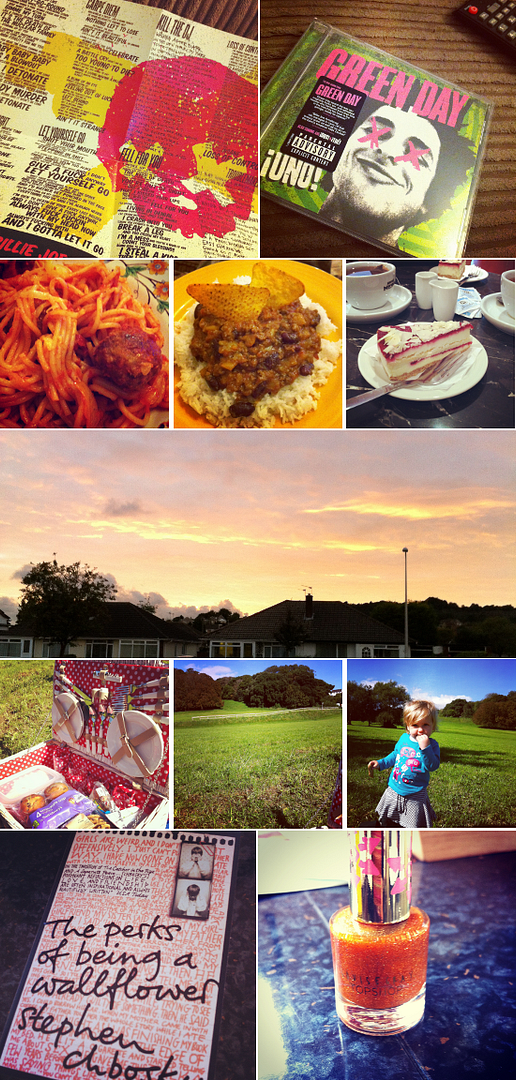 New Green Day album / Meatballs / Chilli / Cheesecake! / Pink skies / Picnic with Daisy / New book / Louise Gray for Topshop Nail Polish

Follow me on Instagram - @cherryp13
As the title suggests, most of this week has been pretty quiet. My mum and dad have gone away on holiday for a week so I've had to temporarily move back home and look after the dog. I took Thursday and Friday off work so I could get a few things done and just generally lounge about the house.
On Thursday afternoon my sister and I took a trip to Bristol to Cabot Circus for some much needed shopping. As usual I spent way too much money and even got myself a new Zara bag, oops! The traffic coming home was horrendous so we were both really worn out after.
I spent Friday doing a few things here and there. I had a nice little visit from my sister and Daisy and the rest of the day was spent sitting on the sofa with my iPad.
Saturday turned out to be quite a nice day so I went to the park with my sister and Daisy for a picnic. We absolutely stuffed ourselves and Daisy loved pointing at all the birds and the aeroplanes that flew over.
I don't have much planned for today, other than to schedule a few posts. How have you spent your weekend?