I'm currently enjoying a few days off work. Yesterday I had an interview at a Advertising/Marketing company which was quite possibly the worst interview I've ever had. I'm not quite sure it was advertised properly as I was expecting that it would be sourcing clients/writing/admin but when I got there it was pretty much a quickfire maths test and I just crumbled. The job description said basic arithmetic...which is fine but what I was tested on I wouldn't exactly call basic. Anyone that knows me will know I'm bad with numbers and not good at working things out on the spot. I basically felt I was in my Maths GCSE again and as they were waiting for me to answer the questions I was just getting more and more frustrated and teary and it just put me off for the rest of the interview. Anyway, I'm not holding out any hope of getting it so I'll put it down to experience and keep searching!
I haven't really got up to much today yet. I've just come back from a 'work meeting' which I was expecting to just turn into an argument. Luckily it didn't and we all got our views heard. My hours will be going up again when the place goes back to half board and I'll be grateful when they do!
So, now I'm home again I can finally get on with today's post. I usually schedule my posts to publish at 9am so this one is a bit late today!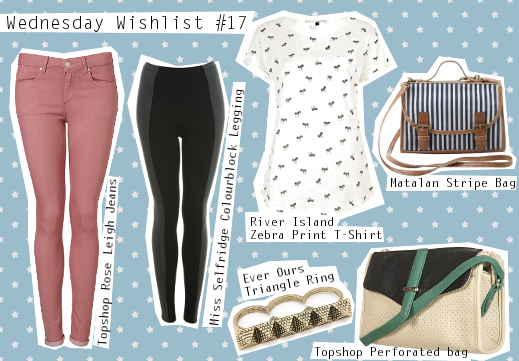 Topshop: MOTO Rose Supersoft Skinny Jeans -£38, Perforated Cross Body Bag - £25
Miss Selfridge : Charcoal Colourblock Legging - £20
River Island: Cream Zebra Print T-Shirt - £12
Ever Ours: Triple Triangle Ring - £5
Matalan - Stripe Canvas Satchel - £8
Having just added the Topshop Rose Skinny Jeans to my wishlist, I've found out that the colour in real life is pretty much nothing like the colour on the website, which is such a shame! In real life I think they're more of a Barbie Pink colour which is just not for me. I could be wrong though, I think I need to see them with my own eyes!
I've been toying with the idea of the Miss Selfridge Leggings as I think they make a nice, subtle change from plain black ones. I wasn't 100% sure that they'd look nice in real life though, but I spotted a girl in Bristol yesterday wearing a pair and they're really quite nice, so these have gone straight to the top of my list!
I can never have too many bags. I picked one up in Primark yesterday and got into a tiff with Vince because I already have so many and don't need any more! You can never have too many bags to be honest. I did end up putting the Primark one back because I decided that it looked a bit cheap and tacky, but the ones featuring above are lovely!!
I found the triple Triangle ring after searching Ever Ours, which Michelle featured on her blog recently. They have some really lovely stuff and this ring quickly caught my eye, only £5 too!
Last but not least, a rare River Island find. Such cute zebra print that I couldn't resist not ordering it, so it will hopefully soon be on it's way to me! Oops!