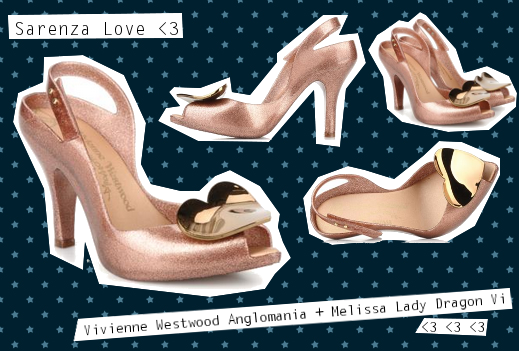 Sarenza: Vivienne Westwood Anglomania Et Melissa Lady Dragon Vii Sp Ad - £143.70
Becoming a Sarenza Ambassador would be a total treat for my feet!
After spending so long infront of the mirror and throwing all manner of clothes around the room in the midsts of getting ready, my footwear is often a very last minute thought. Usually I throw on whatevers nearest or whatever will survive the weather. So, it's about time I thought long and hard about my choice of footwear on a daily basis and becoming a Sarenza Ambassador will give me a great reason to dress my small size 4s in some fabulous looks, for they do deserve it, having kept my upright for 23 years!
I know that every fashion lover and her mother would probably choose Vivienne Westwood Melissa's if they could, but I firmly believe that you should stick with what you know, and I know for a fact that these shoes are gorgeous, practical and fashionable! To have that little slice of Westwood on my shoe rack would be an honour!
Becoming a Sarenza Ambassador would get me out of my footwear comfort zone and quite frankly, Christmas would come every single month with the £150 voucher. I'm not sure that I can dream of anything better?