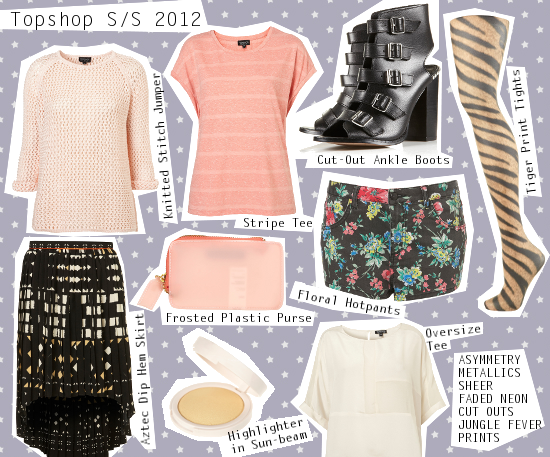 I've decided to put together a little montage of pieces from Topshop's new Spring/Summer 2012 collections.
There are some really lovely pieces within the collections and my favourite looks have got to be from the 'Faded Neon' collection, which is full of lovely pastel colours, loose fits and pretty casual items. My absolute favourite piece is the Knitted Wetlook Stitch Jumper which is perfect for throwing over a little tee on those not so warm days. I also love the casual tee pictured above. A lot of other S/S collections have featured quite bright/neon pieces but I love Topshop's slight twist on the trend! Genius!
I'm also a huge fan of their 'Sheer' collection which is a continuation of the trend into S/S. We're all still loving sheer shirts and strong collars, but these also come in a variety of pastel colours as well as the bolder blacks and reds. The plastic accessories are pretty interesting, though I'm not sure it will really catch on.
The 'Prints' and 'Jungle Fever' are probably my least favourite collections. I'm really not a fan of animal print and I'm bored to death of florals, but I do like the fact that Aztec print is still going and the Aztec Dip Hem Skirt is actually really pretty!
I'm also really excited to see some new Make-Up collections filtering into the store and the 'Sunbeam' Highlighter gives us a great idea of what we can expect!
So, what do you think of the new collections coming through? I'm definitely going to be wearing the faded neons and sheer looks and hopefully you'll see them feature in future posts!
What do you think of the new collections?