Hooray! Wednesday Wishlist is back! After a brief break over Christmas, there's now loads of things that I want, so I've been adding them to my wishlist bookmarks like crazy! A lot of the stuff is in the current Sales so if I want to buy then I need to be super quick! A few of the other bits are new Spring/Summer pieces already available!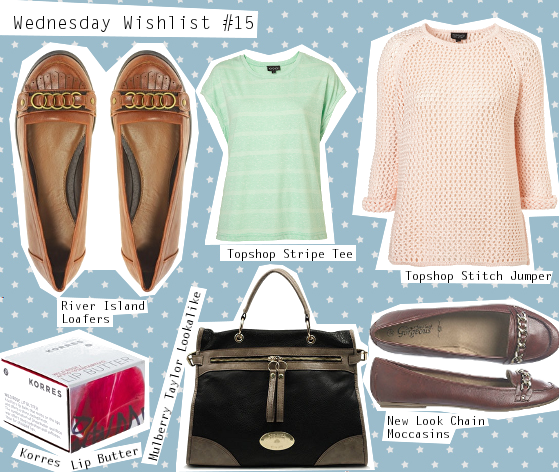 ASOS: River Island Chain Loafers - £15, Korres Lip Butter - £6
Topshop: Stripe Roll Back Tee - £18, Knitted Wet Look Stitch Jumper - £36
New Look: Metallic Chain Moccasin - £7
eBay - Mulberry Oversized Taylor Bag Lookalike - £27
Such lovely stuff on the wishlist this week! I saw the ASOS River Island Loafers on Instagram recently as well as on a few other blogs and immediately loved them! I've got some Primark loafers that are a navy colour but they're quite old and tatty now. I'm not sure why I haven't ordered these yet to be honest, as they still have my size! I found the Metallic Chain Moccasin alternatives in New Look but they're now out of stock!
The Topshop pieces are from the new S/S Lookbook and I love, love, love them! The colours are so pretty so I definitely need to get my hands on these for the Spring time.
As for the Korres lip butter, well, I'm getting really annoyed with it to be honest. All of the flavours are available except the Guava one! I've searched everywhere for it but still can't find one that doesn't come with a ridiculous delivery price!
Last but not least, the Mulberry Oversized Taylor Bag Lookalike is so so pretty! I'd just prefer it to be all black, then it would look even more like the original surely?! I think it's time I got a new bag as I'm getting annoyed with my current one, so I'm now officially on the hunt!