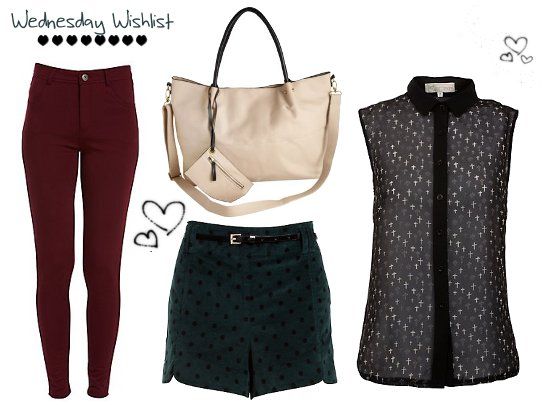 New Look: Dark Red Ponte Tregging - £16.99, Velveteen Green Spot Shorts - £19.99, Cross Print Sleeveless Shirt - £14.99
Matalan: Large Nude Tote - £12
Another lovely Wednesday Wishlist! I'm cheating a bit again as I bought the New Look Treggings at the weekend and they're absolutely lovely! They are the perfect deep red for Autumn/Winter!
I'm also loving the dark green velveteen shorts, which would be perfect with some nice thick tights and ankle boots!
I just can't wait until it's cold enough to start wearing proper Autumn/Winter clothing. I much prefer it to skimpy summer clothes. I need to get myself some nice ankle boots and a few cosy jumpers! Matalan is perfect for this sort of clothing as well so you can definitely expect more to come in future wishlists!
I spotted the Matalan Tote Bag when browsing the website and I'm surprised I haven't seen it in store yet. It's gorgeous! I think a darker colour would probably be more suitable for me as I'm bound to get it dirty within about five minutes!
What's on your wishlist this week?