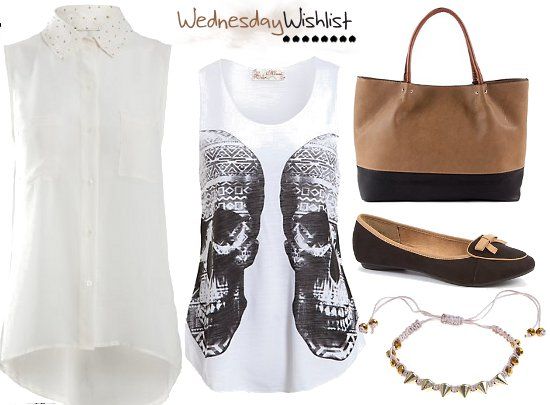 New Look: Cream Studded Collar Shirt - £16.99, Misumi White Oversized Aztec Skull Print Vest - £9.99, Mink and Black Colour Block Tote Bag - £19.99, Wide Fit Black Bow Trim Pumps - £15.99, White Spiked Stud Friendship Bracelet - £3.50
This weeks Wishlist has turned out to be strictly New Look! I just love the white and the black/brown combination. I'd never noticed it before until I started browsing the website. It's just a great, smart look. I'd just add a pair of smart trousers or some leggings to one of these tops and you've got yourself a great outfit right there!
I would be in grave danger if I were to wear the cream top though. I am well known for constantly spilling food down myself so if I wore cream I would just not have to eat while wearing it! Although it is absolutely lovely and I love the studded collar!
As I said I love the brown/black colour combination which is why I picked out the bag and shoes, gorgeous! The bag looks pretty roomy and the shoes look pretty comfortable. I just love the trim and bow detail! While everything I've chosen is from New Look I have noticed that the pricing in the stores has risen quite a bit. It's got to a stage where I pick up an item and think it will be about £10 or so and then look at the price tag and it's almost double what I thought! They are producing some really great items though and I'm definitely favourite it over the likes of Topshop.
What's on your wishlist this week?