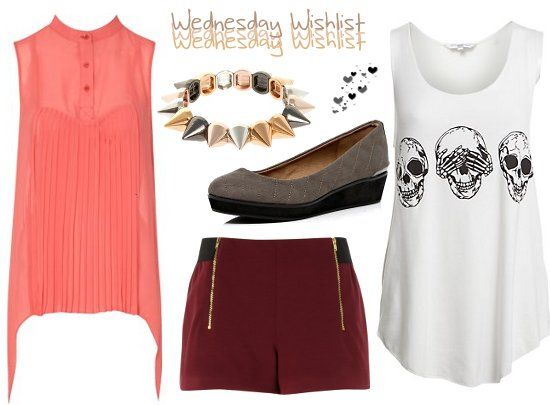 Matalan: Be Beau Sleeveless Pleat Front Blouse In Coral - £18
ASOS: Spike Stretch Bracelet - £8
River Island: Grey Quilted Flatform Shoes - £25
Internacionale: Cranberry Zip Detail Ponte Shorts - £17.99
New Look: White Skull Print Vest - £9.99
The Matalan Be Beau Sleeveless Pleat Front Blouse In Coral is absolutely gorgeous in real life. I tried it on at the weekend and it fit brilliantly but the only thing that stopped me buying it was the fact that it was so so long at the back. I understand dipped hems but this is ridiculous, it came down past my knees and that really put me off! If it was just a little bit shorter I definitely would have purchased it, although I'm still thinking about it non-stop so I could still purchase it in the next week...
I spotted the New Look White Skull Print Vest and instantly added it to my wishlist as it's a brilliant dupe of the Zara Skull Tshirt that I've been trying to get my hands on!
The Internacionale Cranberry Zip Detail Ponte Shorts are really a lovely Autumn/Winter shade and I think they'd be great as a nice, smart pair of shorts. I might just have to add them to my basket...
What's on your wishlist this week?