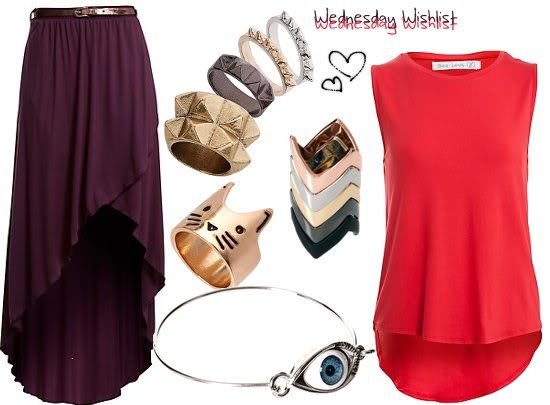 New Look: Aubergine Dip Hem Wrap Skirt - £16.99, Red Dip Hem Tank Top - £5.99
Topshop: Spike Ring Set - £12.50
ASOS: Zig Zag Rings - £10, Cat Face Ring - £8, Eye Skinny Bangle - £6

I absolutely love the colour of the New Look Aubergine Dip Hem Wrap Skirt. It's such a gorgeous colour for Autumn/Winter and would look great with the skull vest top I posted in last week's wishlist! What do you guys think?
The dip hem tank top also caught my eye, it's so basic but great at the same time. For only £5.99 it's a real bargain as well and worth stocking up on in a few colours!
I've had a real thing for accessories and jewellery in this weeks wishlist. I love all of the rings, especially the cat face one! I just love the eye bangle as well. I have the same eye in a ring version of this which I just love!
What's on your wishlist this week?