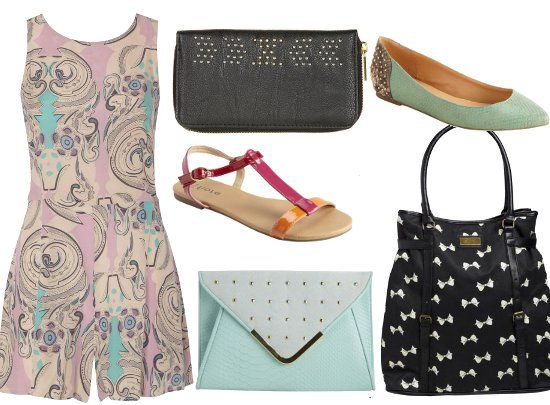 Matalan: Floral Printed Playsuit - £20, Stud Envelope Clutch - £8, Bow Print Tote Bag - £12, Contrast Heel Pointy Shoe - £12, Colour Block Gladiator Sandals - £4
Topshop: Chevron Stud Purse - £16
I didn't realise this wishlist was mainly made up of Matalan products. I tried on the playsuit the other day during my lunch break but couldn't quite decide if it was for me or not. Having seen it again online I'm still undecided!
It's such a nice colour and print though and I love the shorts/skirt, but I'm trying to buy things that I'm actually going to wear instead of having them hanging in my wardrobe for ages going unworn.
I keep walking past the gladiator sandals which are currently on sale. I love the colour but I think I'd prefer a mint/blue shade, perhaps something like the colour of the studded clutch bag. I've never actually had a clutch bag before, I think they'd become a bit annoying to carry around but they're always so pretty. I like having my hands free so I prefer to sling a bag over my shoulder. How do you all deal with clutch bags?
What's on your wishlist this week?