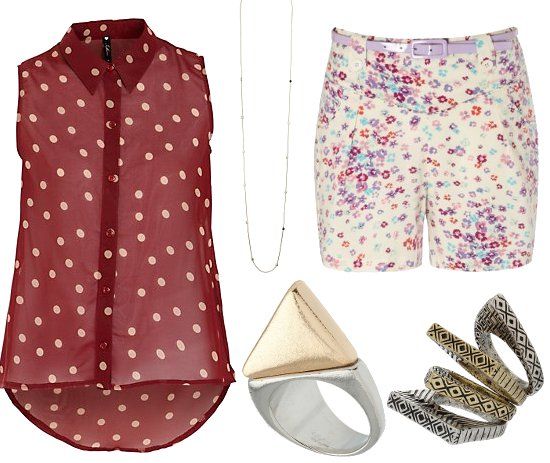 New Look: Red Polka Dot Blouse - £16.99
Matalan: Printed City Shorts - £10
Topshop: XL Heart Necklace - £12.50, Abstract Shape Ring - £7.50, Mixed Shape Ring Set - £12.50
I think you're all well aware of how much I am liking blouses, like the one above, at the moment. I particularly love wearing them with skirts and leggings and love ones with dipped hems. There are so many in the shops at the moment and here are so many different prints and patterns available. I could probably fill my whole wardrobe up with them!
I almost picked up the Matalan Printed City Shorts, but for some reason ended up putting them back again. They're not a tailored as they look in the image and this is why I love them. I adore the print and the pretty lilac belt but I wasn't sure what I'd wear them with. Maybe I need a rethink!
Topshop are great for jewellery at the moment and I'm trying to accessorize my outfits much more by wearing different rings and necklaces. It's a shame that my local store doesn't stock most of what is online otherwise I'd be buying it all up.
What's on your wishlist this week?