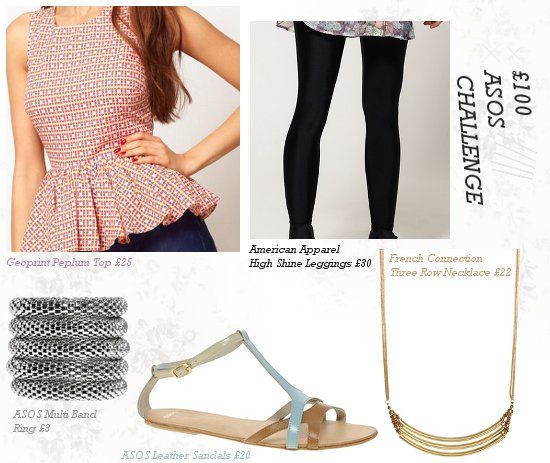 Sleeveless Top With Peplum And Geo Print - 25
American Apparel High Shine Leggings - £30
FABIO Leather Flat Sandals with Colour Block - £20
French Connection Three Row Necklace - £22
Box Knot Multi Band Ring - £3

Total: £100
It is so easy to spend £100 on
ASOS
. If you're looking to put together a nice outfit, you pick your top and bottoms and before you know it you've already nearly reached your limit!
This challenge, as set by The Discount Coder Blog was particularly tricky. I wanted to put together something I would honestly wear and I started out my entry with a £50 top, which was a big mistake!
I had to shop around for something just that bit cheaper and decided on the Geoprint Peplum Top, which is a trend and print I can totally get on board with!
I decided to team it with some American Apparel High Shine Leggings as the peplum top gives a nice bit of coverage, enabling you to wear something like leggings. Disco pants were too much of an obvious choice and I much prefer these shiny ones!
The outfit took a bit of a summer inspired turn when it came to the shoes. I originally searched for creepers and flatforms but instead decided to go with some casual sandals which add a nice flash of colour beneath the black leggings.
I finished things off with a lovely bar necklace and a simple ring which was thankfully only £3 in the sale!
All in all I really like this outfit and think it can be worn casually as well as dressed up for the evening!