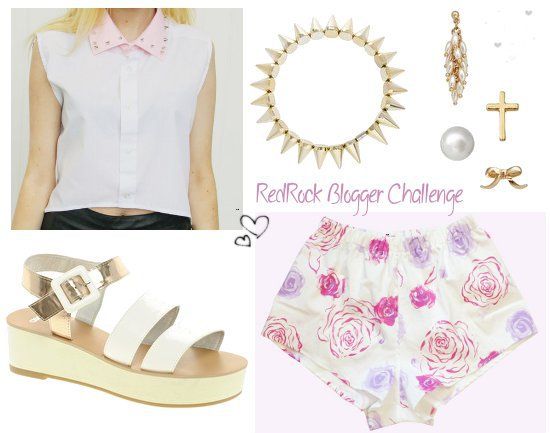 RedRock: Total Stud Cropped Shirt - £26, Pastel Flower Shorties - £27
ASOS: Vinnie Flatforms - £40, Spike Necklace - £25, Mismatch Earring Set - £6
I love entering these types of Blogger competitions! It opens your eyes to new brands and new ways of styling outfits!
This time I've entered the RedRock Blogger Challenge and the aim was to put together an outfit using one or two items from the RedRock Website and styling it anyway you choose!
I've gone for something a little bit different from what I would usually wear and it's a very summer inspired outfit.
Shorts and a cropped top is a pretty daring outfit, but they're such a cute print that they'd be perfect for super hot days. Everyone is loving flatforms at the moment, they make such a nice alternative to normal sandals as these can give a bit of height to shorties like me!
I picked the mismatch earrings to add a bit of quirkiness and although I thought the spike necklace was a bracelet to start with, I think doubling up on spikes would be great and if the necklace stretches at all it can be worn on the wrist as well.