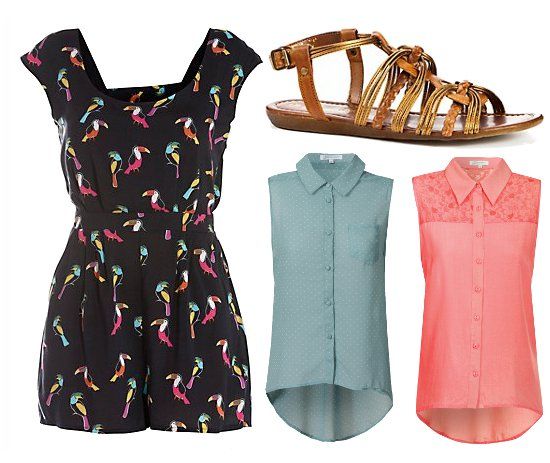 New Look: Black Toucan Print Playsuit - £22.99, Tan & Bronze Strappy Sandals - £20
Glamorous UK: Mint Green Spotted Dip Hem Blouse - £23.99, Pink Lace Detail Blouse - £23.99
Quite a summery Wednesday Wishlist this week! I'm kicking myself for not ordering the New Look Black Toucan Print Playsuit when I made an order yesterday!
I'm yet to try on a playsuit but I think this one looks great, and what a brill print as well!
The Tan & Bronze Strappy Sandals are one of my latest findings in the quest for the perfect pair of sandals. These are really, really pretty but to be honest I
really
want a pair of peep-toe sandals, perhaps with a wedge heel but I can't find any!
I was recently introduced to Glamorous UK which has some lovely stuff in stock! I love the two sleeveless blouses, they'd be perfect for adding a bit of colour into my wardrobe. I guess Glamorous is a bit of a mix between New Look/Dotty P and Topshop with kind of average prices. I'm yet to order anything from them but I think I will end up doing so soon!