Glossybox - April 2012
It seems like absolutely ages since the March Harrods box. The April box wasn't even shipped until April 25th and I didn't receive it until the 28th, hence why this post is being published in May.
I had no idea that this month was going to be another themed box as there was literally no hype surrounding it this time. I have to admit I looked at some spoilers before receiving my own box so I knew roughly what to expect.
This box is all about natural beauty. The box is 100% biodegradable and the products are intended to be organic and natural/ethical. I guess they chose the theme because of it being Spring time and I think it's quite fitting.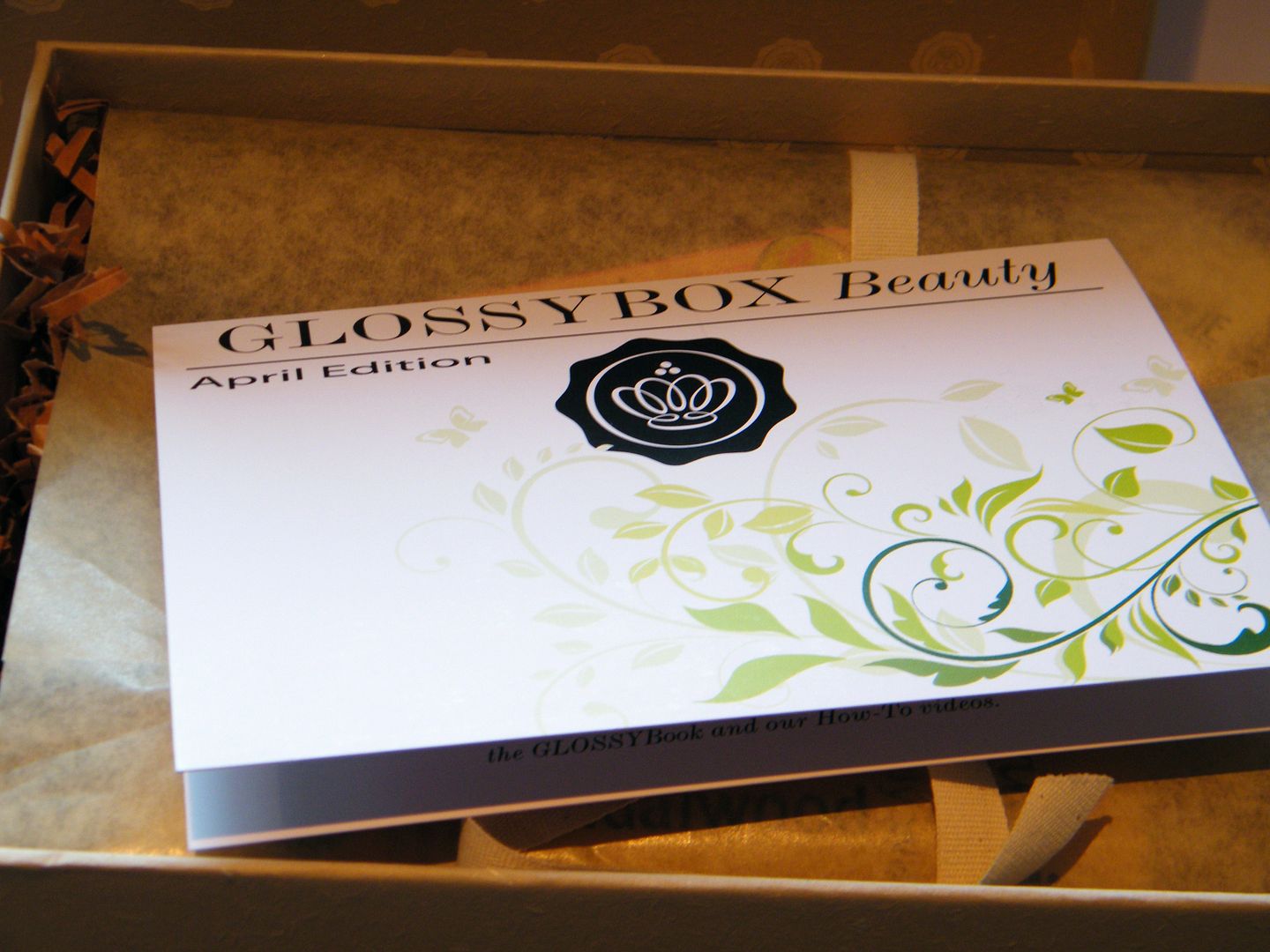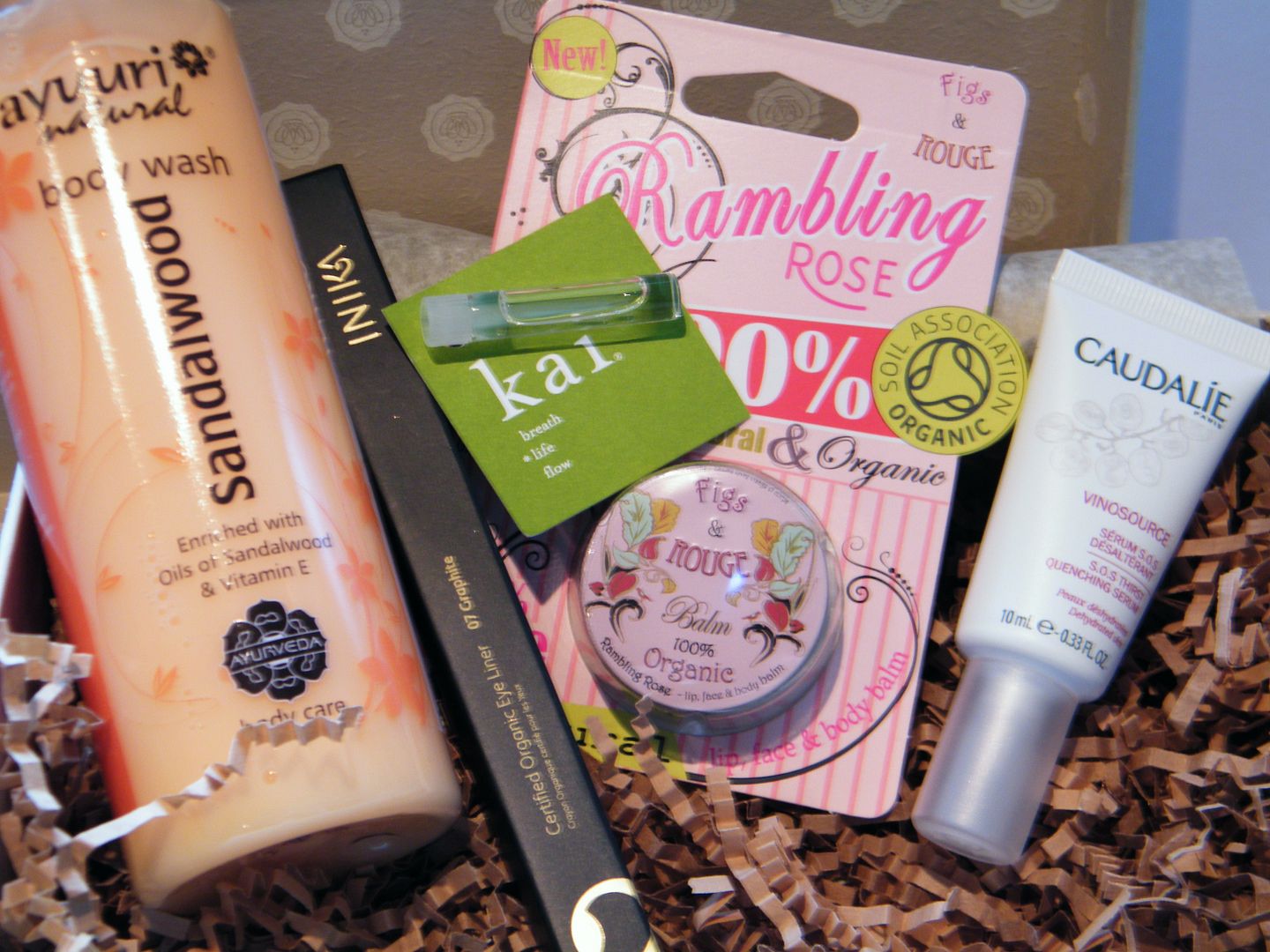 Ayuuri Natural Body Wash - £4.95 fullsize
Inika Cosmetics Organic Eyeliner in #7 Graphite - £11.75 fullsize
Figs & Rouge lip, face & body balm in Rambling Rose - £3.29 fullsize
Kai Perfume Oil - £41 fullsize
Caudalie Vinosource SOS Thirst-Quenching Serum - £29 fullsize
Here we go then...I was so excited to see a Caudalie product in the box as this is a brand I've really wanted to try out! I have a real problem with dry skin so this moisturising serum is perfect! It's a good size sample and can be applied to the face and neck!
It gets a little tacky when it dries but it's got a nice, fresh scent to it and leaves my skin lovely and soft! This is a definite hit!
I was also happy to see another eyeliner the box and you can never have too many in my opinion. The last eyeliner I got from Glossybox was from Eyeko and was a lovely purple shade and I use it regularly. I received #7 in Graphite which is a subtle grey and very lovely!
I've not heard of Inika before and it's interesting to see that it is an organic eyeliner. I'm not sure I've tried an organic one before so it will be interesting to see how it compares. It's really soft on application and has a hint of sparkle, another hit.
I was also happy to receive the lip balm as I've been getting so sick of lipsticks and lipgloss! This is a nice natural brand that I have seen before. I received 'rambling rose' that smells pretty nice. It's a little greasy and soft so not much is needed, but it's great for chucking in your handbag!
I wasn't either happy or disappointed to see a perfume sample as I kind of expected it in a natural themed box. But, I was disappointed in the fact that it was only half full and I wasn't keen on the musky scent as I usually go for floral/fruity scents.
I was also a bit blasé about seeing yet another shower gel/body wash in the box. I'm still using the Molton Brown shower gel that was in the March box and I absolutely love it. I received a sandalwood scented body wash which I'm not really keen on. I'm sure if I pop it in the bathroom it will get used up though!
On first impressions I didn't really like the box but having looked into it further and tried out the products, I'm actually really impressed with three of the products. I've discovered some new brands and found some that I've heard of before so overall I'm happy!
What did you think of this months box?