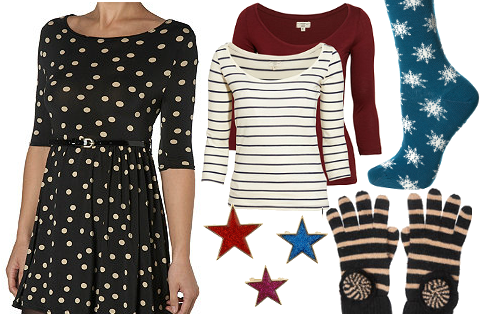 New Look: Belted Spot Tunic, 2pk Bodycon Tops
Topshop: Star Brooch Set, Snowflake Socks, Rosette Stripe Gloves
I do really love doing these wishlist posts! Last week I mentioned that I was attending the MyStreetChic.com Christmas Blogger Party in December and I was looking for something to wear. Well, the New Look Belted Spot Tunic could be a possible contender! Though it could get a bit chilly! I want something nice to wear, but not too over the top and something I can possibly wear to Work Experience in the day time as I'll be going to the event straight from there. It's difficult to choose. I wonder if anyone else is already thinking about what they're going to wear?
Whilst browsing the New Look website, I also came across the 2pk Bodycon Tops. I really need some new tops that aren't short sleeved, what with it being so cold now. Every morning I look in my wardrobe and it's all T-shirts! These are so basic and simple that you can't really go wrong with them!
As I mentioned the cold weather, I thought the Snowflake Socks and Rosette Gloves would come in handy. Not that I need anymore socks or gloves!
I wanted to get the Star Brooch Set as it's a bit different and not something I'd usually wear. I definitely need more brooches in my life!
I'd love all of your opinions on the dress! If you're going to the MyStreetChic.com event, then let me know what you're wearing too!