Everyone wanted to get their hands on the new Models Own Beetlejuice collection and I was one of the people that kept checking their countdown to the release! Finally, it was time and I quickly ordered the Aqua Violet and Purple Blue shades, as those were the two that really stood out to me!
I did have a browse of ASOS.com as they were selling some of the polishes, but unfortunately not the two I wanted! There are five shades in total; Pinky Brown, Aqua Violet, Purple Blue, Golden Green and Emerald Black. As you probably already know, the polishes are pearlescent shades which mean they glimmer and shine in the light. The collection is inspired by the wings of a beetle (not by the movie as many might think) and I think Models Own have got it spot on with the shades and colourings.
When first applying the polishes I was surprised at how thin they were to begin with. I used three coats in total to get the final finish which I think is lovely. Aqua Violet is a gorgeous Purple/Blue blend with a hint of shimmer, while Purple Blue is a more glittering Fuschia and Indigo mix.
Both colours are totally gorgeous, and in the right light I can definitely see hints of purple, blue and even bits of green in the Aqua Violet. I'm also seeing pinks, reds and purple in the Purple Blue, which again, is lovely!
Aqua Violet with Purple Blue accent nail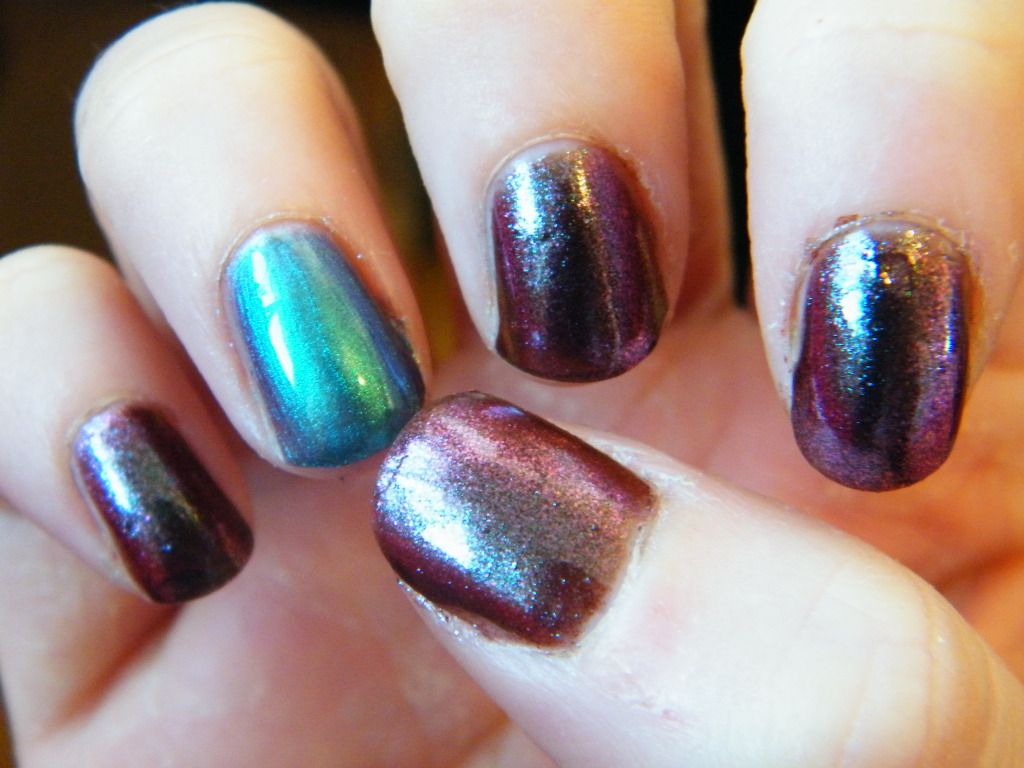 Purple Blue with Aqua Violet accent nail
After seeing other blogs swatching all the shades, I've realised that I want them all! A box set of all five Beetlejuice polishes, plus a 3 in 1 base coat and a top coat is available on ModelsOwnIt.com for just £20. Anyone want to buy me it for Christmas?!