It's a long way off yet but Vince and I are hoping to get a place to live together at some point next year. (Fingers crossed)
I'm trying to save a portion of my wages every week but I can't help thinking about how I (I mean, we!) will decorate our place! So this week's wishlist has a little twist as I've picked out lots of bits and pieces that I want in our new place!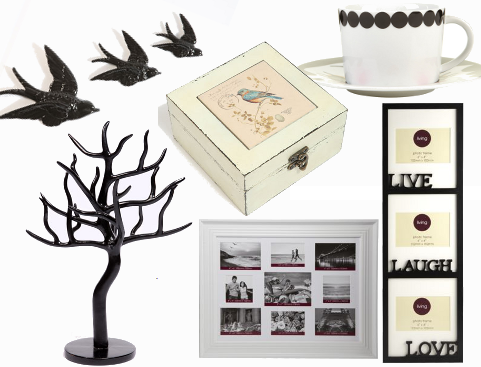 Urban Outfitters: Flying Birds Wall Art, Jewellery Tree, Bird Box
Topshop: Margi Tea Cup & Saucer
Matalan: Live Love Laugh Photo Frame, Collage Frame
I didn't intend there to be a black and white theme at all! I want loads of photos dotted through out the whole place. I love seeing photographs everywhere and it's something I've not had much of living at mum and dad's house.
I've not run any of this past Vince yet but I'm sure he'll like everything I've chosen! Lol! The bird wall art is pretty cool, I think he'll like it!