Thank goodness it's Sunday to be honest! A day of rest and relaxation! Actually, yesterday was a pretty relaxing day as well. :) This week has been a bit rubbishy, mainly due to my hours being completely slaughtered at work due to Christmas. In all other companies, most peoples hours go up at Christmas but because we go full board and close at lunch time, they get cut dramatically. It doesn't help that we now only need two people a day instead of three, and as I'm 'just a helper' mine were the hours that had to go. Great.
I'm definitely going to be looking for something else after Christmas. I'm not having much luck on the Journalism/Writing front but am always looking! I've managed to secure a two week work experience placement at MyStreetChic.com which I'm really looking forward to! It definitely calls for a few new wardrobe items I think! (Actually I've just ordered two items in the process of writing this post! Oops!)
My work experience coincides with the Christmas Blogger Meet which is taking place in Bristol and is actually sponsored/held by MyStreetChic! I've gone and brought myself a ticket, despite knowing absolutely nobody! I've never met any bloggers before so fingers crossed I don't go all shy! If any of you are near Bristol you should definitely come!
Right, enough about me. This week's Sunday Style Steal was a bit difficult as I had some trouble actually finding someone's outfit to recreate! This week I've chosen Sienna Miller who was recently spotted wearing a black Twenty8Twelve Fall 2011 romper suit with chiffon sleeves!
Sienna is one of those celebs that is always pictured falling out of nightclubs and just generally looking rough, so this image caught my eye as she looks great. I love the simplicity of her outfit as well as the small chiffon detail on the sleeves. Although a romper or playsuit as I prefer to say, it looks a lot like a dress due to the puffball style hem. She styled it with some simple black tights, Jimmy Choos and gold earrings, but what I really love is her sophisticated top knot, which really suits her!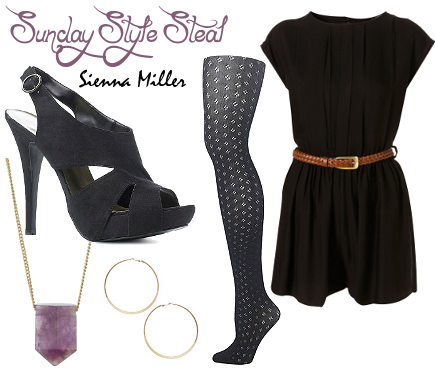 Topshop: Oversized Hoops, Stone Pendant, Playsuit by RARE
New Look: Pointelle Tights, Cutout Slingback Sandals
Is this something you'd wear yourself? I think the playsuit is great and I'm actually looking for something to wear to the Christmas Blogger Meet, so maybe a playsuit like this would be a good idea?
I decided on the Pointelle Tights and the purple Stone Pendant to give the outfit a bit of interest and colour. Personally I'd probably wear my Velvet Ballet Pumps with plain black tights as they'd also give a little hint of colour. I think I've been suitably inspired by this outfit and it's something I definitely want to recreate for the meet! I'll let you know how it goes!