Can't believe I'm back at work today after three days off! I've got so comfortable at home now that I just want to stay here, haha. Yesterday I managed to get a little bit of Christmas shopping done while I was waiting for a prescription to be done. I think if you're actively looking for presents, then you won't find anything, but if you just fancy a browse around, you'll find loads! I managed to get something for Vince's parents and my dad which is a big help because they're always so difficult to buy for!
As we get close to Christmas, I think I might put together some present idea posts! Would anyone be interested in those? Anyway, onto today's Wednesday Wishlist!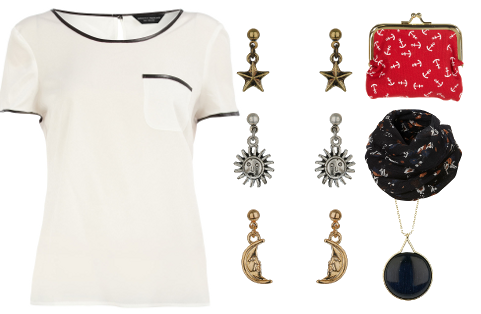 Dorothy Perkins: Cream/Black Leather Trim Top
Topshop: Anchor Clip Purse, Cat Eye Pendant, Floral Snood, Sun Moon and Star Earrings
At the weekend I had a good look through the fashion website's 'new items' sections and came up with these goodies! I've already asked Vince for the Sun, Moon and Star earrings and want the leather trim top so badly! It's one of those things I spot and love instantly, but whether it will suit me or not is another question! I'm hoping it will be in my local DP store so I can try it on!
I really need/want to get a new scarf for Winter and I really like the look of the Floral snood from Topshop. It'll go nicely with my leather jacket and it's not
too
badly priced like most Topshop stuff!