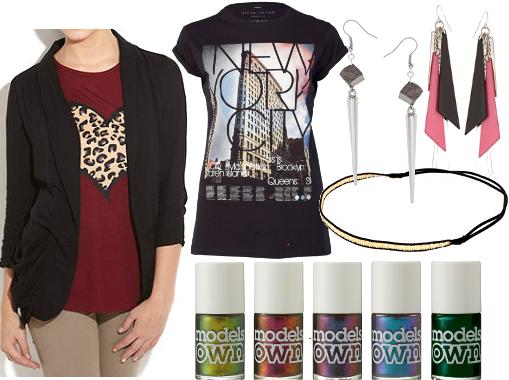 ASOS: Lipsy Mirror Shard Earrings, Spike Drop Earrings, Beaded Headband
New Look: Twill Luxe Blazer
River Island: New York City Tshirt
Models Own: Beetlejuice Collection
I'm cheating just a little bit on this weeks wishlist because I've already purchased the ASOS Beaded Headband and the Lipsy shard earrings! I literally couldn't wait any longer! I was so bored of my current headband that I have to wear for work and I wanted something a bit more interesting. I absolutely love dangly earrings so definitely wanted another pair, and both items were in the sale so I thought, why not? They're on they're way to me now!
I've been looking for a blazer for absolutely ages but they all seem to have quite padded shoulders. I hate my shoulders enough as it is so I don't want to draw any more attention to them, which is why the New Look Twill Blazer blazer looks (whether it is in real life is another question) perfect because it's not too sharp and is made of a softer material than most. I also really wanted one with three-quarter length sleeves. I need to check this out in store and try it on asap!
I spotted the New York Tshirt in River Island while I was in Bristol with Vince. We both really liked it actually, but £15 for a Tshirt? I couldn't do it...New York City tops always stick out for me because I went there in 2009 and loved it, so I can truly say, I heart New York.
I've been watching the countdown on the Models Own Beetlejuice Collection, which finally reached zero at 10am this morning. I really want the Aqua Violet and Purple Blue shades, but the postage costs are really putting me off! ASOS were selling the Pinky Brown and Golden Green shades, but I'm not too keen. I think I might just have to go ahead and order them, I want them that much!