Another much deserved day off from work! I'm up early today as we're going to visit Cadbury Garden Centre to have a look at their Christmas displays, which are always amazing! We're taking my niece, Daisy, and although she doesn't even have a clue what Christmas is, it should still be nice to see her being amused by all of the lights.
I've decided to do something a little different for this weeks Sunday Style Steal as it's not technically an entire outfit. However, it really stood out to me this week and I love the look, so why not try and imitate it?
I spotted an image of Katy Perry wearing a gorgeous Valentino Fall 2011 cashmere cloth Coat when she was in Manchester recently and I love the way it complimented her hair colour. The look itself is very pale and girly, though I wouldn't exactly wear a cat mask out and about.
I love how she's teamed a simple pink scarf underneath the coat and worn black suede knee-length shoes. The look just screams 'Winter,' and it's something that's cosy and so easy to recreate!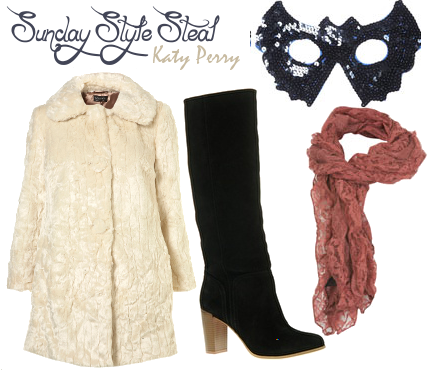 Topshop: Faux Fur Coat, Bat Mask
ASOS: Suede Long Leg Boot
Miss Selfridge: Lace Ruffle Scarf
I chose a faux fur coat as it's so much more snug and I even managed to find a mask to complete the full Katy Perry look. It's such a simple outdoors look but I'd be pretty worried about getting the cream coat dirty! I'm quite accident-prone!
The faux fur coat is a huge investment piece and will probably keep you going for a good few years. The boots are another investment item as you'll wear them year in and year out, so although a little pricey they're actually extremely cost efffective.
Will you be recreating Katy's Winter look?
*Image courtesy of DownCoatBlog