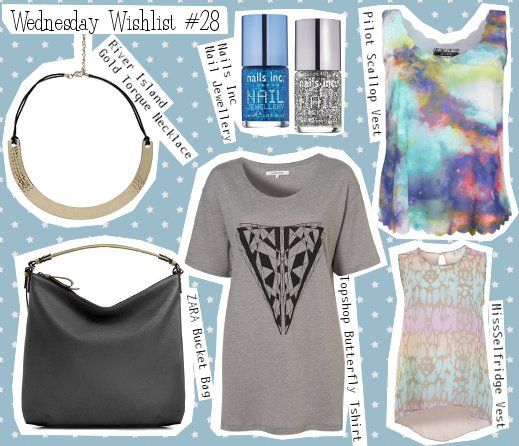 River Island: Torque Necklace - £7
ZARA: Bucket Bag with double handle - £19.99
Topshop: Butterfly Tshirt by Illustrated People - £20
Pilot: Space Scallop Vest Top - £9.99
MissSelfridge: Animal Chiffon Back Vest - £28
Nails Inc: Nail Jewellery - £11
I'm cheating a little bit with this weeks wishlist as I've already ordered the necklace and the bag as a little treat to myself for getting a permanent job!
Although I bought a bag not too long ago, you can never have too many and this one is just too pretty to resist. I'm getting a bit annoyed with my pastel pink satchel as the colour from my clothes keeps rubbing off onto it and it's starting to look a bit dirty. What's even more annoying is that I can't fit all of my rubbish in it! So I think it's time for a new one, I can't wait for it to arrive!
I can't believe a product from Pilot is actually on my list. I remember this shop from when I was younger and I always thought of it as quite tacky, but when I saw the scallop vest on
Leanne's
blog I was quite surprised that it was from Pilot! I'm definitely going to have a closer look at some of their stuff!
After seeing some bloggers post pictures of the Nails Inc event last week I checked out their website and found their new line of Nail Jewellery polishes. These aren't just your usual glitter polishes though, these actually contain fragments that sparkle like diamonds! So as if I didn't have enough nail polishes already, these are swiftly going into my wishlist!
What's on your wishlist this week?