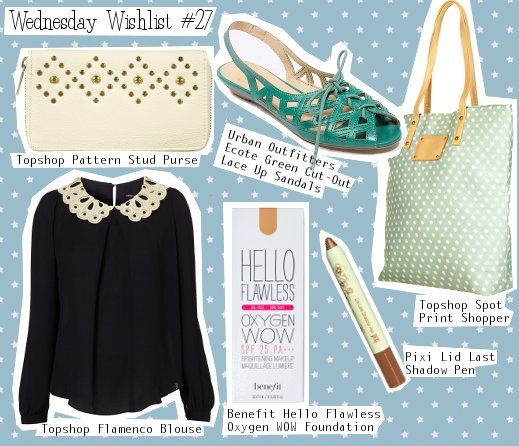 Topshop: Pattern Stud Purse - £16, Spot Print Shopper - £16, Flamenco Blouse by Sister Jane - £52
Urban Outfitters: Ecote Green Cut-out Lace Up Sandals - £32
ASOS - Benefit Hello Flawless Foundation - £24.50, Pixi Lid Last Shadow Pen - £6.50
If only I could justify £52, I would currently be wearing the Topshop Flamenco Blouse. I adore the collar and it looks like it's very loose fitting and floaty which is not something I usually wear, but would be great! Perhaps this is one to keep an eye on incase it goes on sale!
The Urban Outfitters sandals are also something I wouldn't usually wear but after seeing
Michelle
sporting some similar minty green ones, I had to have a look for myself. They aren't exactly the same as the one's Michelle has featured but cute all the same! I definitely need something like this for Summer!
The Benefit foundation and Pixi eyeshadow are two products that I keep going to purchase but then deciding not to at the last minute. The foundation is quite expensive, especially for something that I wouldn't use on a daily basis! The cover up powder is so amazing though so I'm leaning more and more towards buying it.
Have you tried the Benefit foundation? What do you think of it?