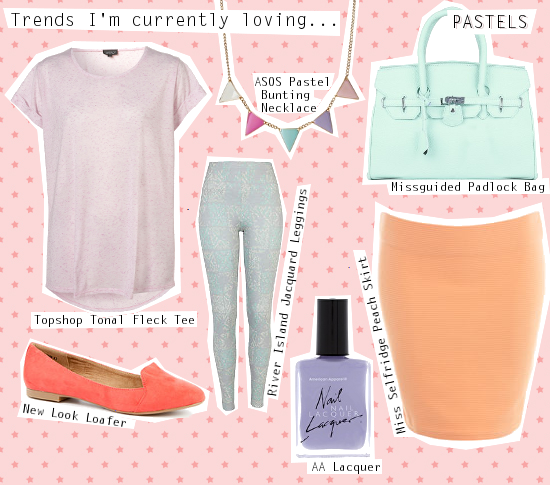 Topshop: Tonal Fleck Tee - £15
ASOS: Pastel Bunting Necklace - £10, American Apparel Pastel Nail Lacquer in L'espirit - £7
Missguided: Marka Padlock Front Bag - £26.99
New Look: Slip on Suedette Loafer - £15.99
Miss Selfridge: Peach Textured Rib Mini - £22
Lovely, lovely, lovely is what I have to say about Spring 2012's latest trend. Although it's not exactly 'new' and pastels get reworked every year, they still always come back better than before.
I am loving the Pastels vs Neon battle that's going on at the moment, but I definitely know which one I prefer. I've not exactly got on board with the whole pastel trend in the past but seeing pastel jeans, shoes and even leggings has already got me planning my Spring wardrobe additions. I think small hints of pastel are definitely the best way to go, perhaps in a nail polish or subtle accessories. I'd have to be having a brave day to wear some all out pastel jeans, but we'll see!
I am loving the loafers and the different casual tops that are available at the moment. I still have a £25 New Look giftcard left from Christmas so this could possibly go towards the shoes!
I'm also considering a pastel coloured skirt like the one pictured above! These could be great with a light t-shirt, not too over the top and very 'me'.
What do you think of the Pastel trend?