MUA x Love Hearts Collaboration*
The MUA Cosmetics and Love Hearts collaboration is probably the most exciting launch of the year so far.
You all know how much I love MUA and I've reviewed a lot of their products after spending my own money on them in stores. Now I'm very lucky to have been sent a few bits and pieces (and lots of sweets!) from the new collection which I was so excited to try!
I was hoping to attend the actual launch event but it was in London and would have cost me about £60 to get a return ticket at such short notice. However, because I missed out the lovely MUA sent me the products to try!
I was seriously surprised at the amount of sweets that were included in the package! I haven't had Love Hearts sweets in so long so I promptly stuffed myself with them! Surviving my sweetie coma, I went on to try out the products and get them reviewed for you! I received two of the new look nail polishes in the range in 'U R FAB' and 'I WANT U' which are both lovely.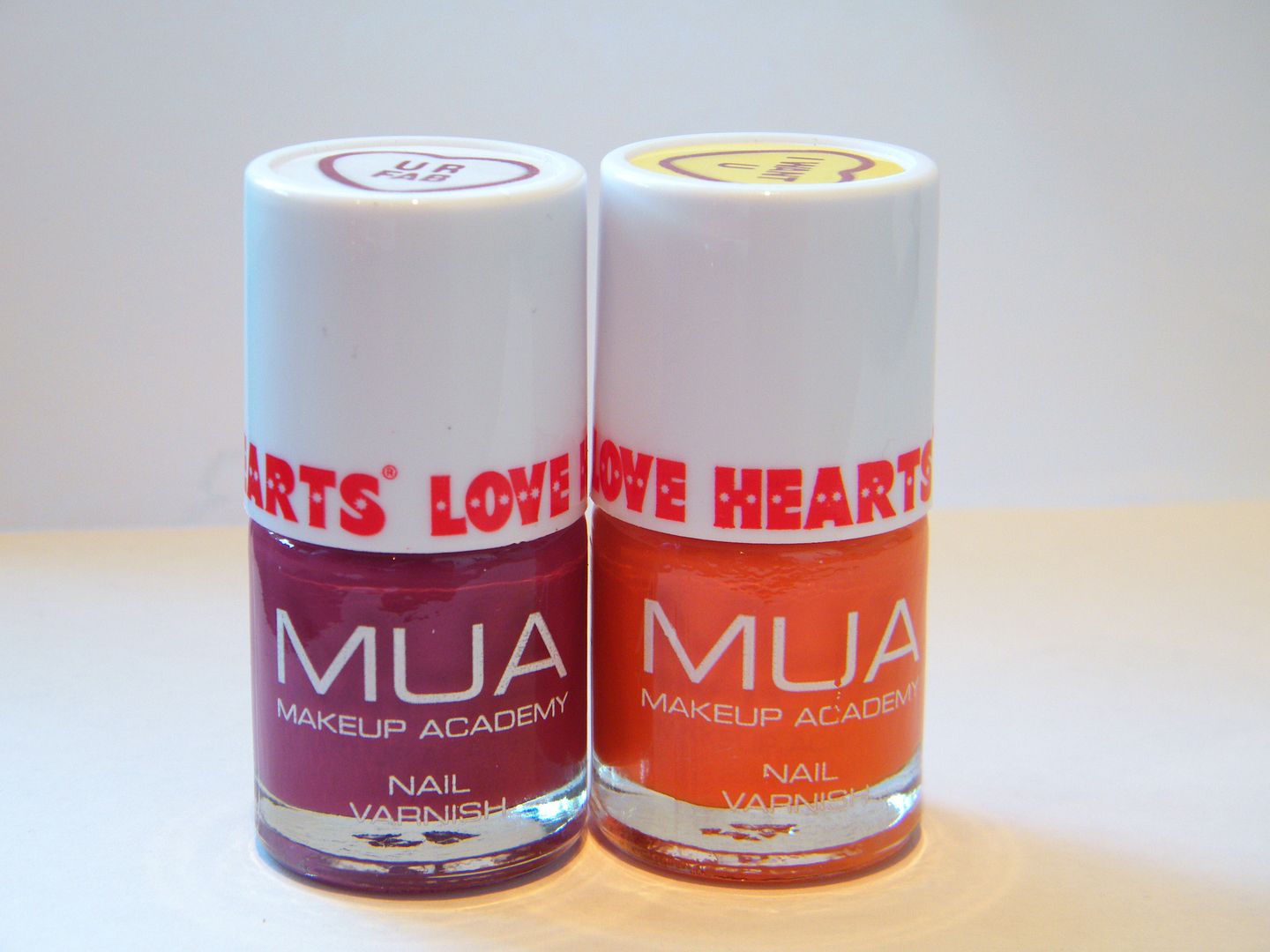 MUA x Love Hearts Nail Polish in U R FAB and I WANT U - £2*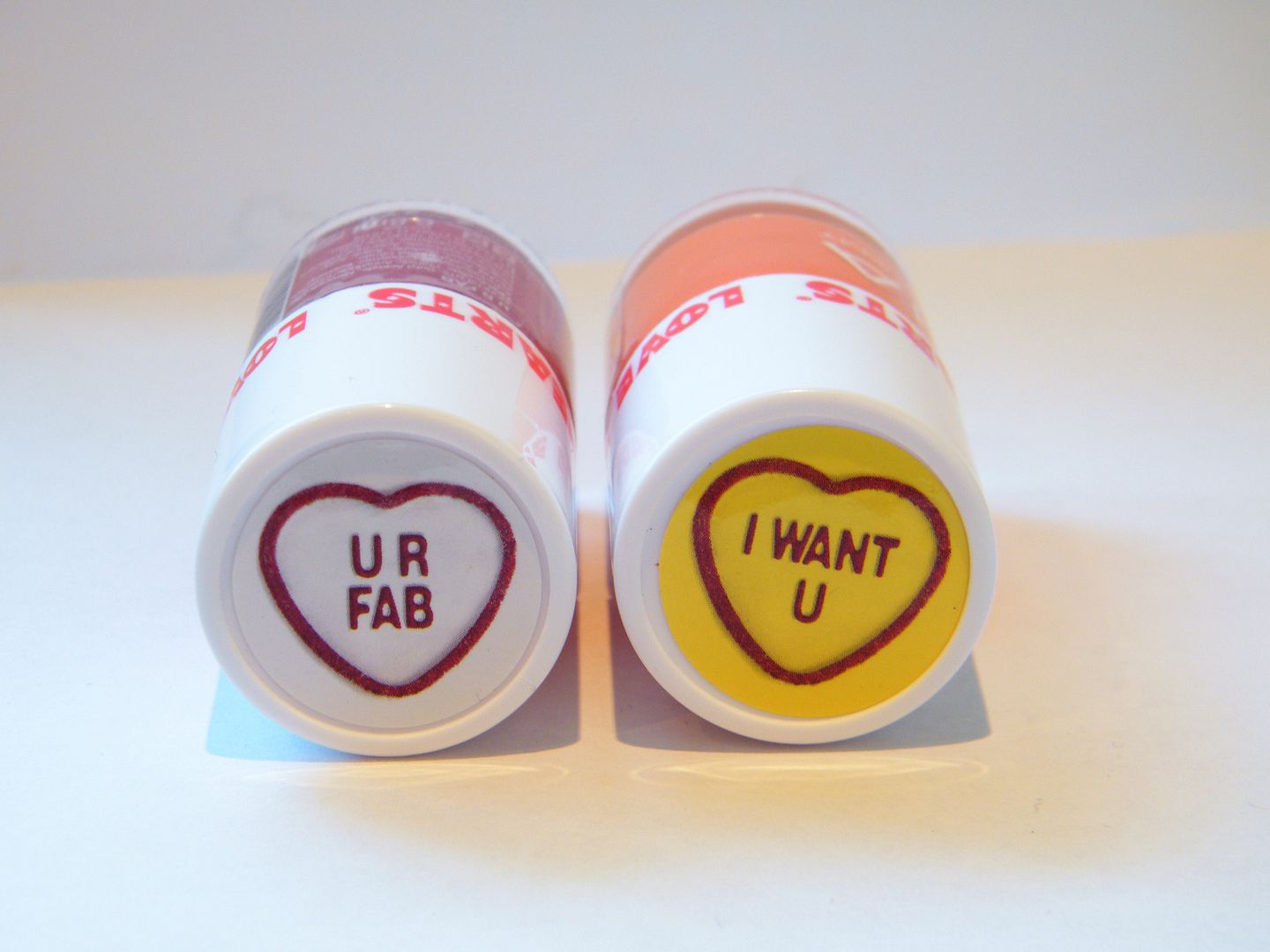 I particularly like 'U R FAB' as it only takes one layer and dries really quickly. It's a lovely deep Pink shade which works well alongside the 'I WANT U', a sherbet Orange shade! 'I WANT U' took two layers of polish as it's a little bit thinner but the overall finished look is gorgeous, perfect for Spring/Summer!
The polishes are really lovely to apply and I really like the new white lid for the bottles, it reminds me of Models Own polishes. I think these could be a great rival and I think I'll be purchasing a few other shades from the range!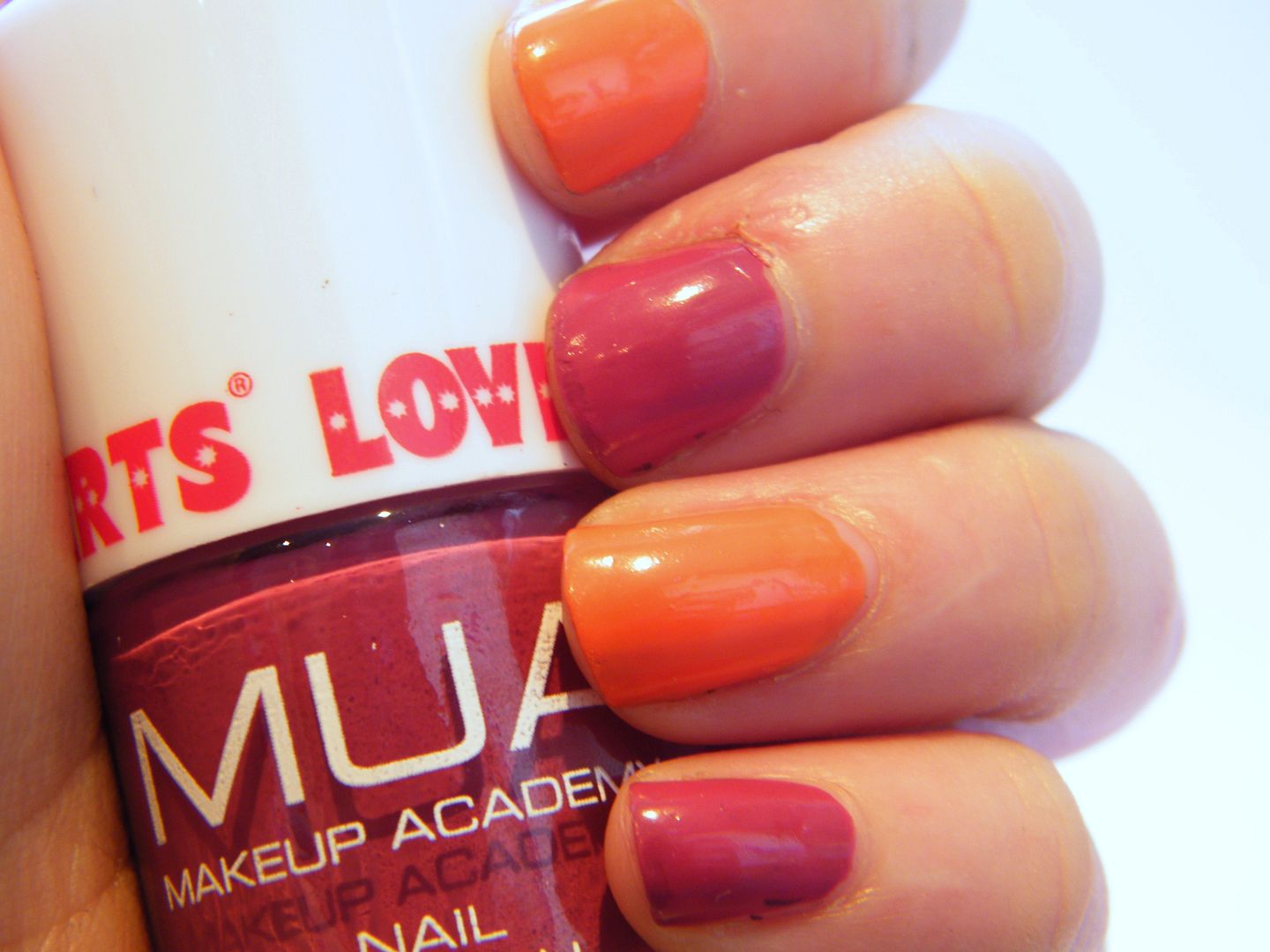 The other part of the new range are the lip balms which come in five different shades. I was very kindly sent 'HOT LIPS', which is a deep red/pink and 'SUGAR LIPS', a sweet baby pink. Both of the lip balms smell sugary and sweet and are really very generous in size!
MUA x Love Hearts Lip Balms in 'SUGAR LIPS' and 'HOT LIPS' - £2*
Both lip balms are really lovely and soft on application. Once applied they don't taste sweet which is great and the colour is only very subtle which is also great for people like me that aren't comfortable with lip colour.
The 'SUGAR LIPS' balm didn't actually leave any colour on my lips as it's a bit too light but I much prefer it like this! 'HOT LIPS' leaves a nice rosy sheen to my lips which I could totally cope with from day to day. I really love the finished effect of these balms and thankfully they don't leave your lips feeling sticky/tacky after application. I'd definitely recommend them as a cheap and cheerful addition to your makeup bag!
The MUA and Love Hearts Collaboration has generated a real buzz in the blogging community. As I've mentioned in the past MUA are really making a name for themselves and it's great to see that a budget brand is doing so well! I absolutely adore MUA and always check out their makeup counters when I visit Superdrug stores! I was also sent a few other bits and pieces so you can expect a lot more MUA reviews to come!
This post contains PR samples