A teeny tiny break from blogging seems to have occured over the past few days. Thank goodness for scheduled posts, but unfortunately I missed this weeks Celeb Style Steal and Week In Photos posts, but they'll hopefully be back this week!
My weekend was actually pretty ridiculous to be honest. I was set to work a busy special event and not enough staff were rota'd in so it was a busy, busy, busy weekend, when it really shouldn't have been!
Yesterday I had a second interview at a PR company, which I think went well. I'm trying not to get my hopes up though as they have a lot of other applicants to see, fingers crossed though!
Even after spending so much money on stuff that I don't even need recently, there is still enough products/items to feature on a post every single week!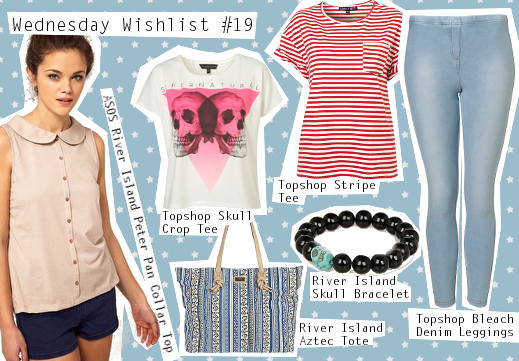 ASOS: River Island Peter Pan Collar Top - £12
River Island: Blue Aztec Print Stripe Tote - £25, Black Skull Bead Bracelet - £3
Topshop: Bleach Denim Leggings - £22, Fluro Skull Crop Top - £18, Stripe Tee - £18
Just a few Topshop pieces caught my eye this week, all from the Petite range, which I always forget about! I'm getting sick of black skinnies so I thought the Topshop Bleach Leggings might be a nice change for Spring time!
I love all of the tops I've chosen above, and the Peter Pan collar makes an appearance yet again! I still can't get enough of them, the River Island Peter Pan Collar Top is perfect for smart and casual wear, I can picture myself wearing it under my black blazer/jacket!
While browsing the River Island website I came across the Blue Aztec Print Stripe Tote, which I fell in love with instantly! So lovely, but a bit pricey too!
This will definitely not be good for my bank balance!