Topshop: Peplum Heart Back Dress - £55, Peplum Tunic - £26
New Look: Inspire Black Scuba Peplum Top - £19.99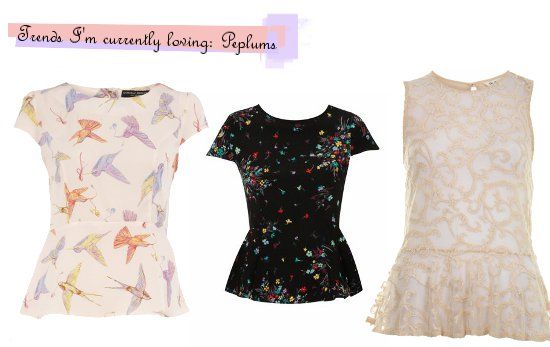 Dorothy Perkins: Bird Print Peplum Top - £27
Matalan: Floral Print Peplum Top - £14
Miss Selridge: Cream Lace Peplum Top - £32
Peplums are everywhere right now. I love how they bring a flirty and girly edge to any top, skirt or dress and they're one of my favourite trends right now.
The peplum adds a little bit of volume and the illusion of curves to any outfit. The peplum top looks great with a slick pencil skirt for a real smart outfit.
Dropped peplum hems are also pretty popular as seen above in the Coral dress. While this style doesn't really suit me personally it does look great on other people. I much prefer peplum tops as they make me feel a tiny bit more glamorous than usual and give a subtle nod to the 1960s.
What do you think of the peplum trend?