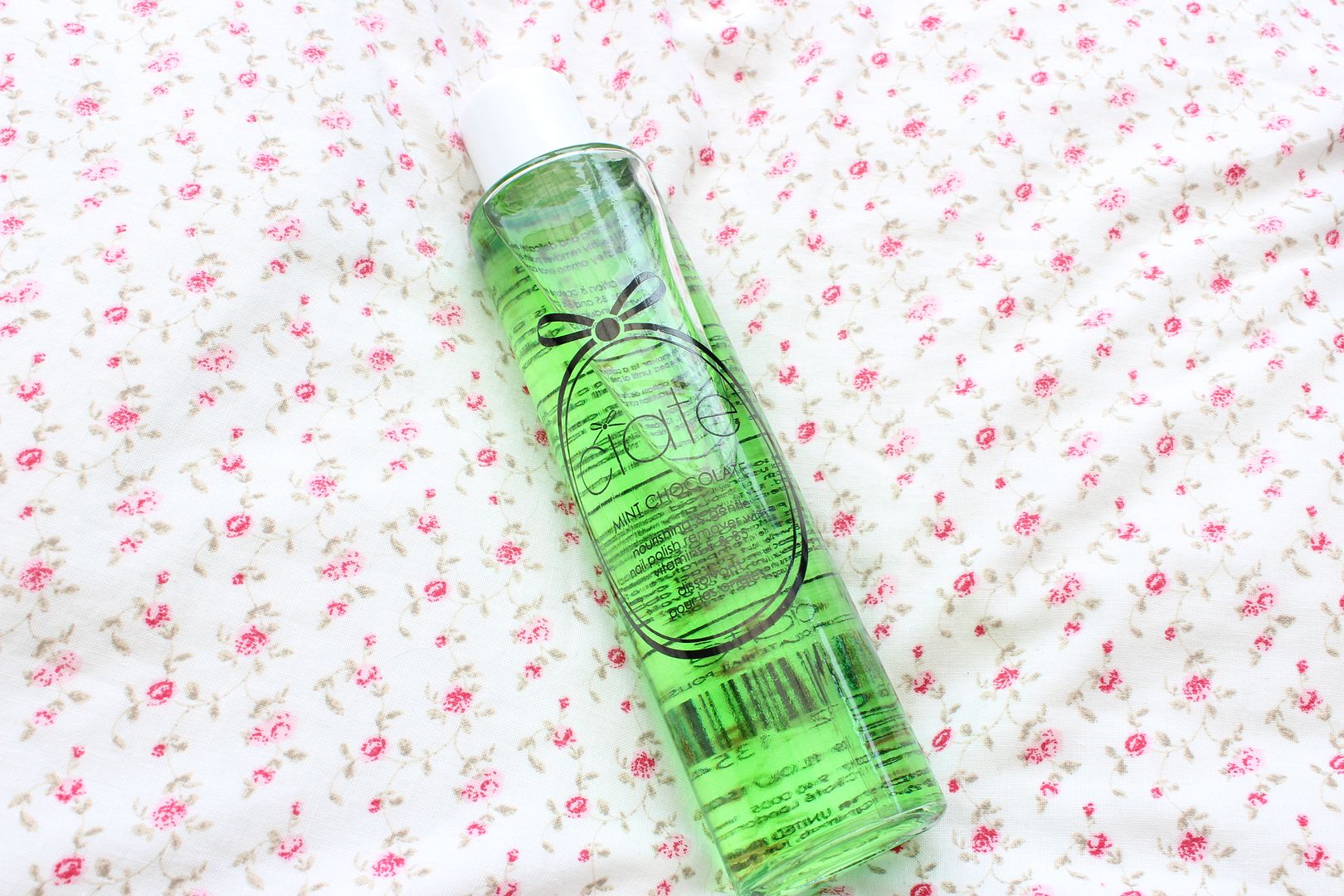 Ciaté Scented Nail Polish Remover in Mint Chocolate - £10
This is probably the most money I've ever spent on a nail polish remover. There was a bit of a buzz about it in the blogging world so I totally got caught up in it and bought this for £10 plus postage, which made it nearly £14 in total. That is quite a lot for a nail polish remover if you ask me, but you do get quite a lot of product for your money and as you don't really need much for each use.
I like the fact this comes in a glass bottle and I also like the fact that it didn't smash in transit. While it looks green in the bottle it's actually clear nail polish remover and the bottle comes with a plastic stopper to prevent any spillages. My mum actually asked me how on earth a nail polish remover can be scented… and if you were to sniff the bottle (which I wouldn't recommend) you would wonder the same as well because in the bottle it doesn't seem scented. It's not until you've used it on your nails that you can smell the minty chocolatey scent. It's not a massively overpowering scent and it kind of smells like those cheaper chocolates that you can get, which is a little disappointing. The scent doesn't stay around for long either.
I'm kind of on the fence with this. On the one hand it's great at removing polish and you only really need a little product for each use, which means this will last absolutely ages but the scented selling point to it seems a bit pointless to be honest. You can only smell it once you've used it on your hands but then who's going to be sitting there sniffing their fingers?? Exactly.
I'm not sure this quite lives up to the hype. The remover does contain vitamin B5 and vitamin E to help moisturise and nourish the skin but I don't think I would be using this regularly enough to see any results from this. It's a lot of money to pay for a nail polish remover and do you
really
need scented nail polish remover? Probably not.
Have you used this or any of the other scented polish removers? Let me know what you thought.