Internacionale - Heart Print Playsuit
F&F at Tesco Fluffy Cardigan - £18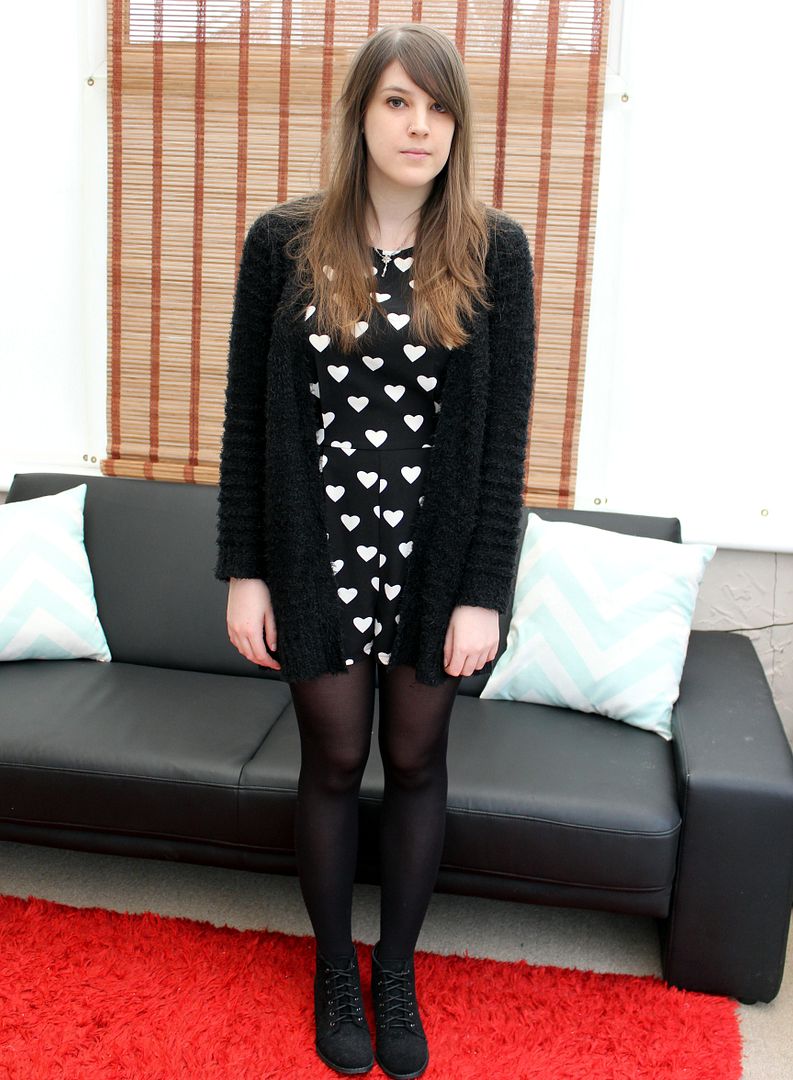 New Look Lace Up Block Ankle Boots - £19.99
Hooray, I've finally found a decent-ish place to take outfit photos! This is in my conservatory, which has pretty great light so I'm really happy to have found somewhere now. I did use my garden in the past but it's a complete mess at the moment so this is a great alternative.
I picked this playsuit up from Internacionale about a month ago and absolutely love it, although since creating this post I've found out the brand has gone into administration! I am gutted! I knew as soon as I received it and took it out of its packaging that it would fit perfectly and (in my opinion) look pretty good too. I love the fit of this but there's one teeny tiny thing that annoys me a little and that's that it has a zip and a loop hole button at the back. The loop hole button is pretty tricky to secure so it would be a right pain when you have to go to the loo! I actually just leave it undone and you can't even tell when you have a cardigan on.
Speaking of my cardigan I completely copied this from
Temporary-Secretary
as it looked so lovely and cosy. It is really soft and fluffy and it's a great quality so after washing it still maintains it's softness and fluffiness.
I picked up the ankle boots from the kids section of New Look. They fit me perfectly and are a fraction cheaper than the adults shoes. Great! If you have small feet, particularly a size 3 or 4 then I'd definitely recommend checking out the kids/teen section of shops.
I've gone quite casual with this playsuit and could probably make it even more casual with flat shoes/converse of some kind but it can be worn more dressed up with higher heels and maybe a blazer/jacket too.
What do you think of the playsuit? Let me know in the comments and let me know how you would style it too.