I haven't written a Sunday Style Steal post in so long! I do apologise, it just seems that every Sunday I'm working and don't have time to do one.
The past week has been so hectic as I've been on work experience at MyStreetChic.com which as been really great, despite having to get up early and catch the train at 8am every morning. I'm really not used to early mornings anymore and I'm absolutely shattered, but enjoying it!
As I mentioned earlier in the week, they're hosting a Christmas Blogger party on Friday 16th, at Java in Bristol. On Thursday we travelled to the venue and shot a little promotional video, of which I appear in. I actually had to present it and I loathe doing things like that. When I did media in College I was always, always behind the camera, never infront of it, so doing the presenting was really nerve wracking and I think that will probably show on the finished product. Hopefully the camera man can work some magic and make it look fun and lively! We'll see. I've also had a sneak peek at the Goody bags that everyone will be receiving, and they're actually going to be brilliant! I expect I'll be spending a good chunk of next week stuffing them all!
Annoyingly, I'm working tomorrow as someone else is off sick. I've also got a few night shifts next week which is extra annoying as I don't get home until 6:45, so I'll be spending about an hour at home before having to go off to work until 11pm. :(
Anyway, enough of me jabbering on. I wanted to do this weeks Sunday Style Steal featuring Kate Middleton who recently wore a dress from high-street store, Zara. Unsurprisingly, it's already sold out, like everything she is spotted in, but I'm sure it'll be back in stock again soon, so I've come up with some ways to wear it.
Apologies for the dodgy pic, but you can see the dress well enough. The Lace Tulip Dress is perfect for this time of the year and is a reasonable £69.99. Not too pricey for a Princess, eh?
Kate kept her accessories pretty simple with a pair of black heels, black clutch and a black Ralph Lauren jacket. I decided to also try and keep the look simple and I love the little hint of colour from the clutch I've chosen!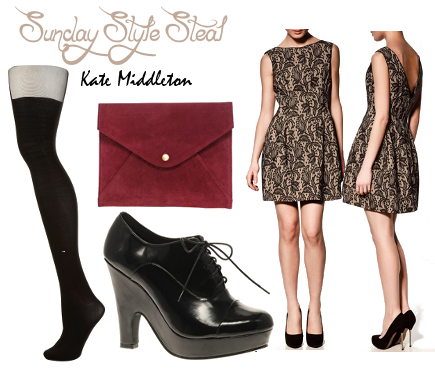 Zara - Lace Tulip Dress
Topshop - Black Suspender Tights
ASOS - Suede Envelope Clutch, Tabitha Shoe Boot
I think pretty much anybody could pull this outfit off. I'd definitely team it with black tights as I hate showing off my legs, but for those that are more confident, you can leave them off!
What do you think?
*Image courtesy of GraziaDaily