It's really not long to go now until the big day!! Who am I kidding? I won't be enjoying waking up on Christmas day and opening lots of lovely presents...in fact I'll be waking up on Christmas day, putting my Uniform on and going to work for the morning. How depressing.
Last week, I posted a S/S 2012 Lookbook from Tesco, and while it may still be a little early, there's no harm in planning our wardrobes out now. However, let's get all the Christmas parties and 'dos' out of the way first shall we.
Now, this may be a Christmas Collection, but it's got a pretty dark theme to it, which is very me. I can't be doing with all that sparkle and glitter, I'd rather wear something plain coloured and comfortable!
I love the black/navy theme that's going on and am particularly interested in the shorts that have been transformed into chiffon trousers? Interesting, but wearable? Probably not.
My favourite item has got to be the blue lace shorts with scallop hem. They'd look great with a pretty blouse, tights and heels and they're something I'd definitely wear to a Christmas party!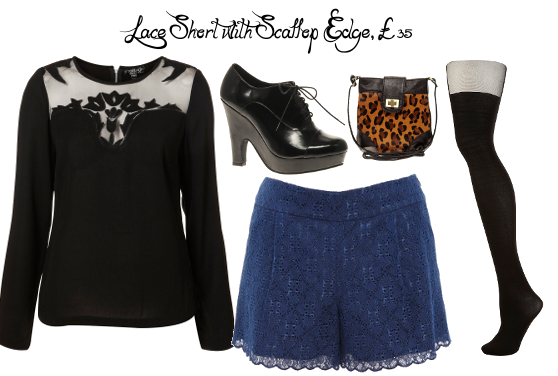 ASOS: Lace Short with Scallop Edge, Leopard Cross Body Bag, Tabitha Shoe Boot
Topshop: Black Suspender Tights, Tulip Mesh Blouse