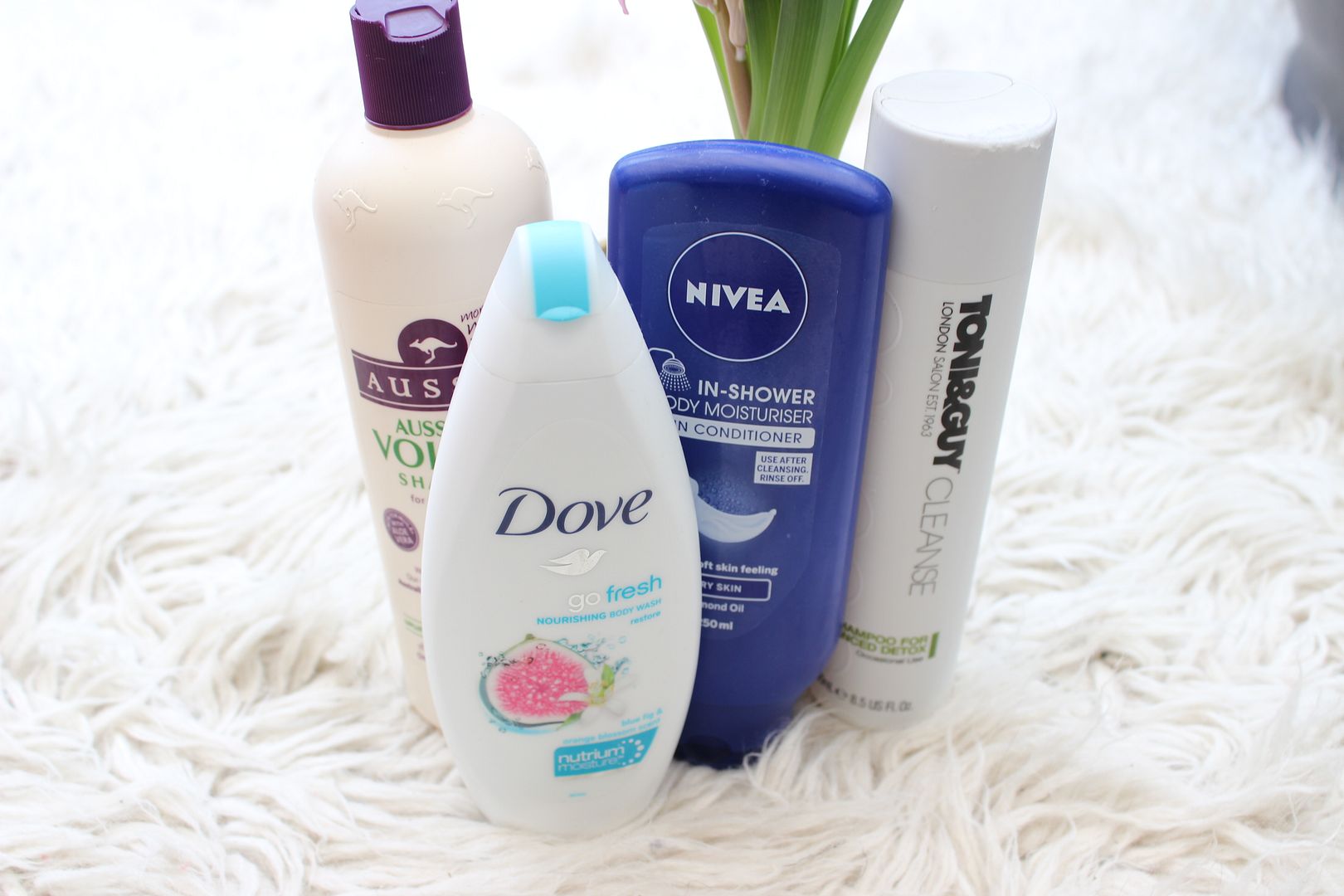 Make way for the big guns of bathroom beauty!
Last week's post
featured some of my fave mini miracle bathroom products such as bath gels, shower gels and bubble baths but this week's post is dedicated to some of the bigger products I use on a regular basis.
My Aussie Aussome Volume Shampoo is one I use religiously. I do tend to have little breaks from it as my hair can get a bit used to it and the volumising action isn't as noticeable but it is definitely one I keep coming back to. It smells so amazing as most of you probably know and the size of the bottle means it lasts forever!
I'm actually rotating the Aussie shampoo with the new L'Oreal Fibrology shampoo, which I dedicated a post to yesterday, but about once a week I use Toni & Guy's Cleanse Shampoo as a bit of a detox/treatment for my hair. It removes dirt and product build up from the hair and it leaves it feeling lovely and soft and clean. I'd definitely recommend!
In the bathroom I have a normal shower gel that I use, but it's unscented so I like to get some extra little scented goodies such as Dove's Go Fresh shower cream in Blue Fig. This is an amazing scent that just fills the entire bathroom and lingers on the skin for a good while after application.
For moisturisers I always go for Nivea's In Shower Body Moisturiser, which is absolutely amazing. It's lovely and thick and creamy so I tend to use loads but it leaves the skin feeling super duper soft all day long. For £3.40 you can't really go wrong. I'm going to be upping my usage of this as spring/summer arrives and I try to get my legs looking somewhat presentable for dress wearing.
What are your go-to bathroom products?