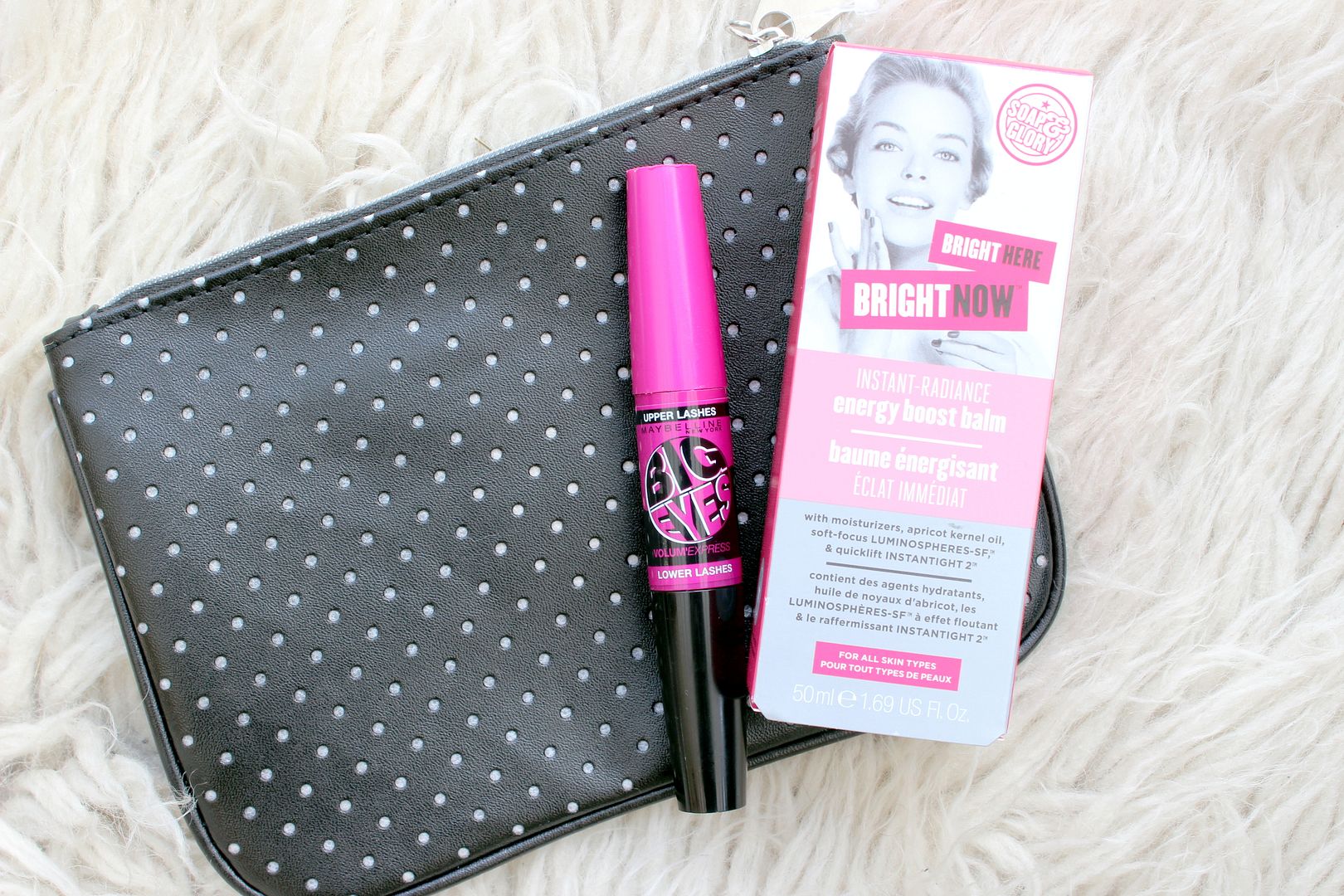 I think this is probably going to become quite a regular series on the blog. This past weekend I went to Bristol for a big shopping trip and I also popped to my local Boots on Sunday to pick up some of the things I forgot to get in Bristol.
First one my list was Soap & Glory's Bright Here Bright Now. I pretty much bought this based on the name alone. I actually used it for the first time on Sunday morning as I felt like going make-up free for the day and I absolutely loved it. It was £8, which isn't too expensive I suppose, but I'm so glad I got it because I already really love it. I've got a dedicated post coming up very soon!
I certainly don't need any more mascaras but I couldn't help picking up Maybelline's new Big Eyes mascara. I was intrigued by the bottom lash brush and can't wait to try it out. I also picked up a cute little make-up bag to store some of my new bits and pieces in!
I didn't want to buy the Garnier Micellar Water, but I couldn't help it. I didn't realise how big it was, much bigger than the Bioderma so I'm looking forward to giving it a whirl and comparing it to my beloved Bioderma. It's pretty much half of the price too!
I picked up the Garnier Beauty Oil and Pantene BB Creme on a bit of a whim. I spotted the oil on the shelves and it kind of kept calling out to me. I've yet to try it but I imagine it will be another lovely little product that will take up space on my bathroom shelves. I'm hoping it's not too oily on the skin as I don't want to be greasy but I guess we'll wait and see. Last but not least I picked up the Pantene BB Creme as I saw it on an advert and thought it looked pretty interesting. Everyone's bought into BB cream for your skin so why not for your hair?
What's in your shopping basket this week?