I'm so annoyed at myself for not blogging since Sunday! I do apologise, and I'm working hard today and tomorrow to get lots of posts lined up for you!
Tonight Vince and I are going to cook a nice dinner at his house and then go and see Paranormal Activity 3 at the cinema! We originally planned to go out for dinner using a voucher I purchased from Groupon, but only realised today that you have to use it before 5pm! So we're using that for lunch tomorrow and cooking something up ourselves tonight. I know lots of people don't like the Paranormal Activity films but I quite like them! This one is about the main characters when they were young girls, and we find out how the haunting began! So I think it'll be pretty good! At least I'm hoping it is anyway!
Am going to be working a lot over Friday and the Weekend. It's some sort of special event at work so Friday night I'll be working until 1am! :( Then on November 1st, Christmas officially begins! I am actually looking forward to it because the guests get lunch in the restaurant, meaning we don't have to cater for them and we can close for an hour! Good times!
Now, today's Wishlist comes to you completely from Topshop as per usual. I love browsing the 'New In' section and finding lots of treats...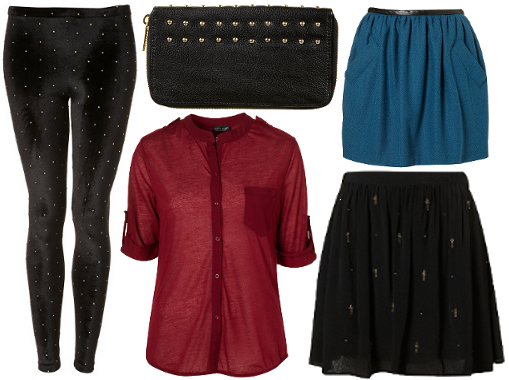 Topshop: Velvet Studded Leggings, Studded Wallet, Utility Shirt, Flannel Skirt, Cross Embroidery Skirt
Quite a dark colour palette, but lovely all the same. The Velvet Leggings caught my eye in particular as I think they'd be pretty warm in the Winter and would make a nice change from my current, boring grey leggings. They also have a non-studded version and lots of different colours! I definitely need to try these on in store!
The shirt is a red version of the one I already have. It's a really nice, loose fit, great for warmer weather so I might purchase this ready for next year! I'm always looking for new purses and wallets, but I seem to have had the same one for three years now and it's never let me down. This studded one is very pretty and if I spot it in store I might just have to get it!
Both the skirts are really pretty and definitely 'me'. I much prefer floaty, loose fitting skirts. It looks like a trip to Topshop is definitely in order for me when I next get paid!