As soon as I saw this outfit on Miranda Kerr, I knew I had to feature it. It's perfect for all this hot weather we're having!
I've not really paid much attention to Miranda Kerr in the past, but I thought she looked effortlessly cool in these pics. It's been ridiculously hot for the past few days so this outfit would be perfect as we celebrate the last few days of Summer! Before we know it, it'll be snowing!
The lucky lucky girl was on her way to the Musée Rodin for Paris Fashion Week where she was preparing to walk for the Dior Spring 2012 show, when she was snapped. While it's not all head to toe designer gear, she couldn't go without a little Miu Miu in the form of the bag! But my favourite part of the outfit has got to be the little pop of colour from her heels!
Obviously we don't all have bank balances to match Miranda's so I've re-created the outfit using high street pieces!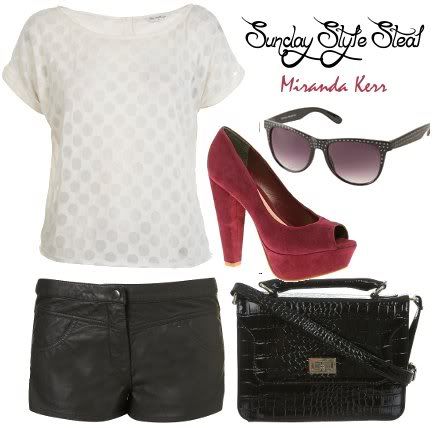 Miss Selfridge: Polka Dot Burnout Crop, Black Patent Croc Bag
Topshop: Studded Sunglasses, Faux Leather Biker Hotpants
ASOS: Dune Magenta Heels
So, so easy to copy! What I wouldn't give to be able to rock this outfit. I'd definitely buy the tshirt, in fact, the green version has even featured in my Weekly Wishlist posts, but I'm not sure I could pull off the leather shorts!
I just love how simple the outfit is and I think the most simple ones always work the best! It's pretty perfect for getting from show to show isn't it?
*Images courtesy of HotCelebsHome and FamePictures