Tomorrow is my birthday!! I turn the grand old age of 23, despite still feeling like I'm about 18 and still looking like I'm 12. Choosing what I want for my birthday this year has been such a nightmare as everything I've asked for has gone out of stock, or can't be found in the shops around here. I should have planned my present wishlist earlier I suppose, so it's my own fault!
I've decided that despite most of it being out of stock still, I'd make this week's Wednesday Wishlist post, a birthday inspired one and include everything I've asked for! Whether I'll be getting it or not is another question, I guess I'll have to wait and see! Some of the stuff has featured in past wishlists already so you may recognise it!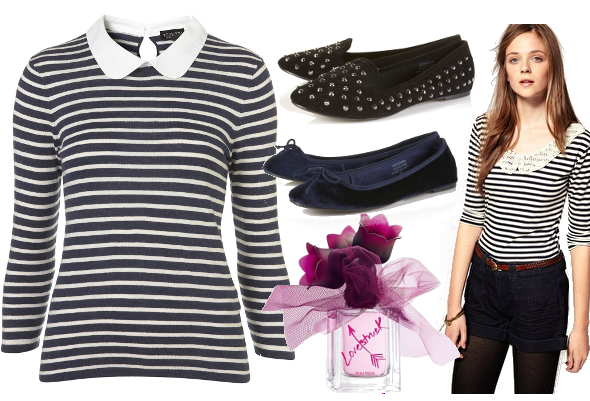 Topshop: Velvet Ballet Pumps, Studded Slippers, Peter Pan Top
ASOS: Stripey Tee with Lace Collar
Boots: Vera Wang Lovestruck
Quite frankly, who hasn't had these shoes on their wishlists? I'm so gutted that the studded slippers are sold out as they were my first choice, but the velvet pumps are really cute too, though not rainy weather friendly!
What's even more annoying is the fact that I ordered the stripey tee with the lace collar and then cancelled the order because I thought I could ask for it for my birthday anyway. Then, when Vince went to order it, it was sold out! Argh!
I asked my parents for the perfume and then had to spend ages describing it through text message to my mum as she stood in Boots getting it confused with the Marc Jacobs Daisy and Lola perfumes! I finally found it in Boots today and showed her so hopefully that will be in my possession tomorrow! If not, I went for the new Loverdose perfume as my next choice!
Originally I asked for the studded slippers and then the stripey tee from Vince, but as both are sold out I have no idea what he's getting me now!
I don't think I'll be doing anything too special to celebrate this year, I have the day off work which will be nice and will be meeting up with friends on the Friday, but other than that, it's just another year passing by! Now, where's my walking stick?