Hope everyone likes the new look for the blog! I've been wanting to change the header for ages but every time I went to design something, I lost my inspiration or decided whatever I created was rubbish. Yesterday, in a spur of the moment thing I just whipped up the header and changed everything without even thinking about it! I thought it'd be tough to create something without Photoshop, which I'm used to, but I realised you can also install brushes on GIMP, so I'm a happy bunny and don't even need Photoshop after all!
Please let me know what you think in the comments! I'd love some feedback/criticism.
Now onto the Wishlist! The majority of this comes from River Island, who's 'new arrival' section is actually really surprising. Usually I hate River Island and I never even bother browsing their site or stepping foot in their shop, but I was really impressed with some of the pieces I came across, so I'll definitely have to remember to pay them a visit in future!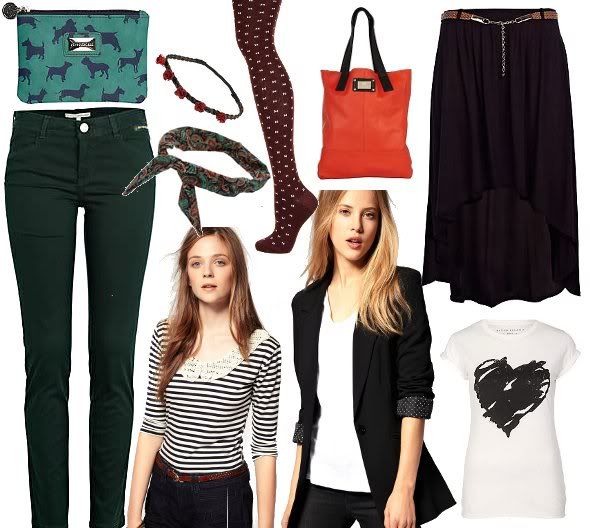 River Island: Green Skinny Trousers, Midi Skirt, Scratchy Heart Print Tee, Dog Print Make-up Purse, Contrast Tote
ASOS: Stripe Tee with Lace Collar, Boyfriend Blazer
Topshop: Bow Tights, Printed Wire Headband, Plait Headband
It's my birthday next week so a few Birthday wants have appeared on this Wishlist, including the ASOS A|Wear Stripe Tee with Lace Collar and the Boyfriend Blazer, but I can't choose between the two. I'm not sure the blazer would really suit me to be honest so I don't want to ask for it for my birthday for that reason!
I spotted the skirt and the jeans on River Island and fell in love with them instantly. I would personally wear the skirt with the heart tee as well so I've pretty much picked out a whole outfit here, minus the shoes! I definitely need to branch out on my head wear for work. I'm getting a bit bored of my plain old headband!
This week I have a lot less hours than normal, as well as three days off, which means I should be able to write a few more blog posts, so keep your eyes peeled for those! Don't forget to leave me some questions in the comments for my FAQ page!