I cannot wait for this weekend to be over! At work we are hosting the 'Fisherman's Festival' for the British Aquatic Society and while it's nice looking at all the fish and some of the animals and stalls in the tents, that's all there is to it. The people that have turned out for the event aren't our usual over 50's, they're much louder and ruder. Yesterday morning I served a man at 10:15am and he was already drunk, with a Becks in his hand! Gross.
Christmas officially starts on Tuesday at work and I can't wait. It means we don't serve ANY hot food, meaning I won't stink of chips after work! I don't have a day off until Thursday now, so I'm going to try and keep the blogs going when I'm finished each day. It might be difficult to get some decent pictures though. I finish at 5:30 every day this week and with the clocks going back, it'll probably be dark before I leave!
One of my old Glossybox's is coming in really handy as a little 'review' box. I've picked up quite a few bits and pieces to review recently, so they're all sitting in the box waiting to be photographed and written about!
Until then...let's get on with today's Sunday Style Steal. Number 7, can you believe?! This week featuring Kate Bosworth, who's fashion sense is sometimes pretty questionable. Thankfully, she turned out looking half decent at a Chanel dinner recently, in an all black outfit.
Kate looks simply stylish here and her hair looks great in a top knot. Very sophisticated and I much prefer it to her more recent turquoise blue dip-dye look. Her outfit consists of a black A-line patterned skirt and black silk shirt with embroidered cuffs and detailed buttons.
She also wore Chanel lace up wedges, complete with gold trim detail, and a Chanel clutch bag! Unfortunately, we can't all afford gold trimmed designer clothes, so I've managed to find a few alternatives!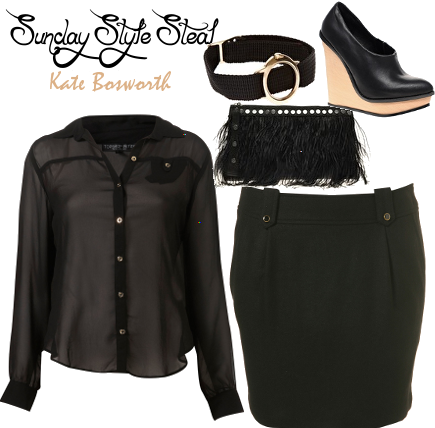 Topshop: Black Flannel Mini Skirt, Chiffon Tab Shirt
ASOS: Vintage Look Watch Bracelet, Pointed Wedge Shoe Boot, Feather Clutch Bag
Whenever I wear black on black, I always feel like a mime artist. I suppose this look is broken up a bit by the skirt and the material of the shirt. Although a designer label, the outfit itself looks like something pretty simple to be wearing to such a prestigious event. Kate pulls it off well though, don't you think?
*Image courtesy of Celebrity-Gossip.net