Viking Direct Fashion stationary A5 owl notebook - £7.99*
Viking Direct Fashion stationary A5 Flower notebook - £7.99*
Bic Cristal Large Fashion ballpoint pens in assorted colours - £4.14*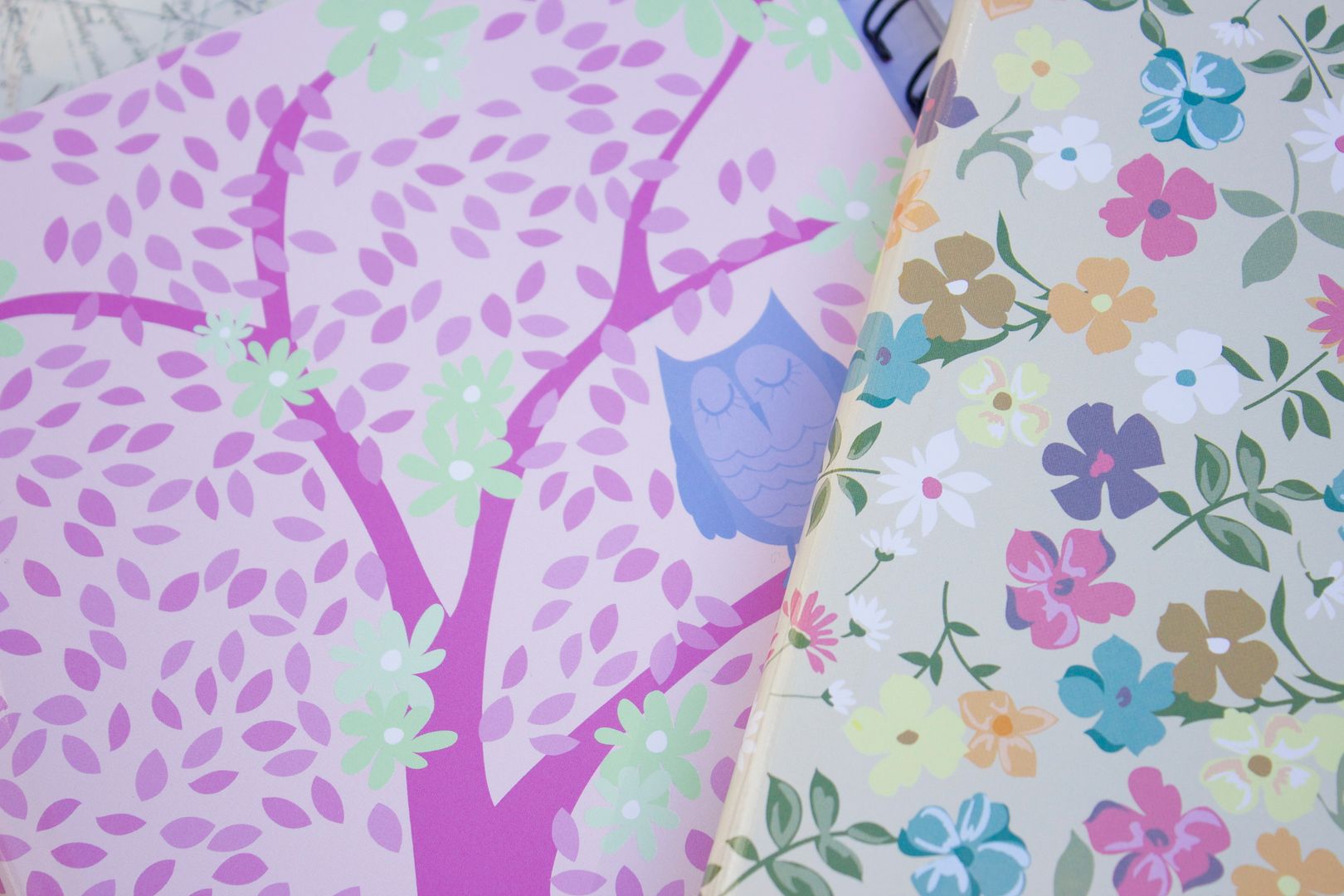 Recently I have found myself becoming increasingly disorganised with my blog. I'm not sure why but I'm hoping that writing this post might help me get myself back on track and hopefully it might help a few of you too.
I've decided to include a couple of tips, which have helped me in the past. They can be used in blogging but also in every day life, whether it's at work or school or University. I'm not saying they'll work for everyone but they might give you a couple of ideas for your own organisation.
Splash out on stationary!
This isn't really a tip as such but I find it helps when I have some pretty notebooks and pens to write everything down in. The inner stationary nerd in me loves writing in brand new notebooks with different coloured pens. While it might be a bit superficial I find that having new notebooks and pens helps to motivate my mind, sort of like going back to school where you feel refreshed and ready to get on with your jobs.
I was recently asked if I'd like to try a few bits from the fashion range at
Viking Direct
so I opted for a couple of super cute notebooks and a box of coloured pens. I haven't had an excuse to get new stationary since University so I was so happy when they arrived. The pens come in a pack of 20 great colours and the notebooks are really cute too, very sturdy and good quality. I can't wait to fill them up with all of my blog ideas.
Make lists
Lists are probably the best and most obvious way to get organised. Make lists within lists if you need to! You should rank your jobs from the most to the least important and split them up over a couple of days, but be sure to be realistic about what you can get done in a day.
While you're working your way through your lists I find it helps to have little breaks every now and then. I'm not saying down tools for two hours while you watch a couple of episodes of Game of Thrones, but stop and have a quick cup of tea and a change of scenery. Getting up and moving around helps to keep your mind motivated and I have found it wakes you up a bit if you're feeling a bit sleepy.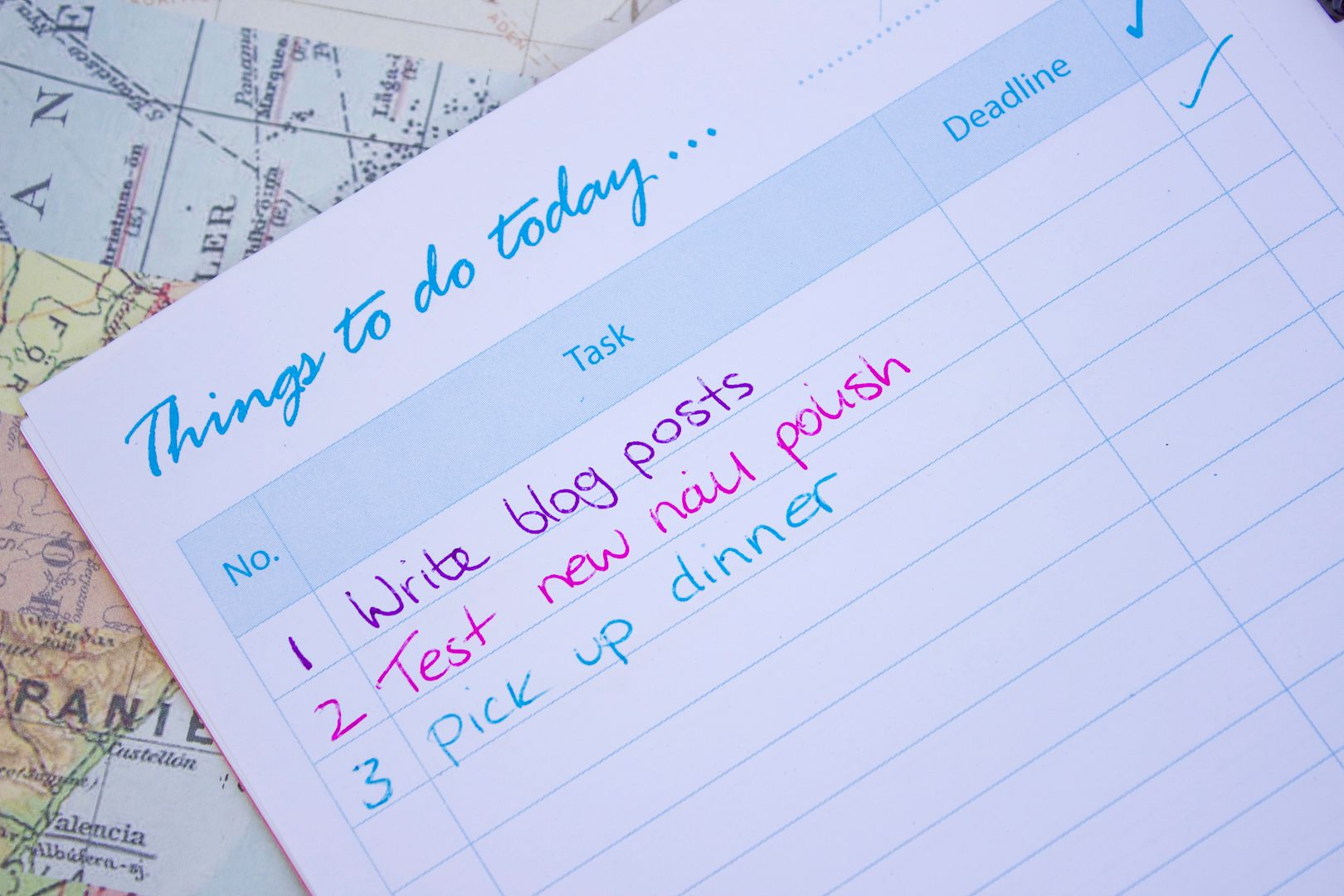 Have a dedicated workspace
I currently sit on my sofa to blog and it's really not ideal. A cluttered work space means a cluttered mind so if you can, find a space, preferably at a desk, away from distractions such as the TV and you'll find you get much more done.
Keep a calendar or a diary
Having a calendar or a diary is always handy. You can make a note on each date of what you need to do that day and refer to it each night to see what you've got coming up the next day. I find calendars really helpful. Mine is hanging on my wall so everytime I walk past it I'm gently reminded of what I need to do. You could invest in a filofax or little diary for your handbag so you can always whip it out and see what chores you have to do while you're out and about.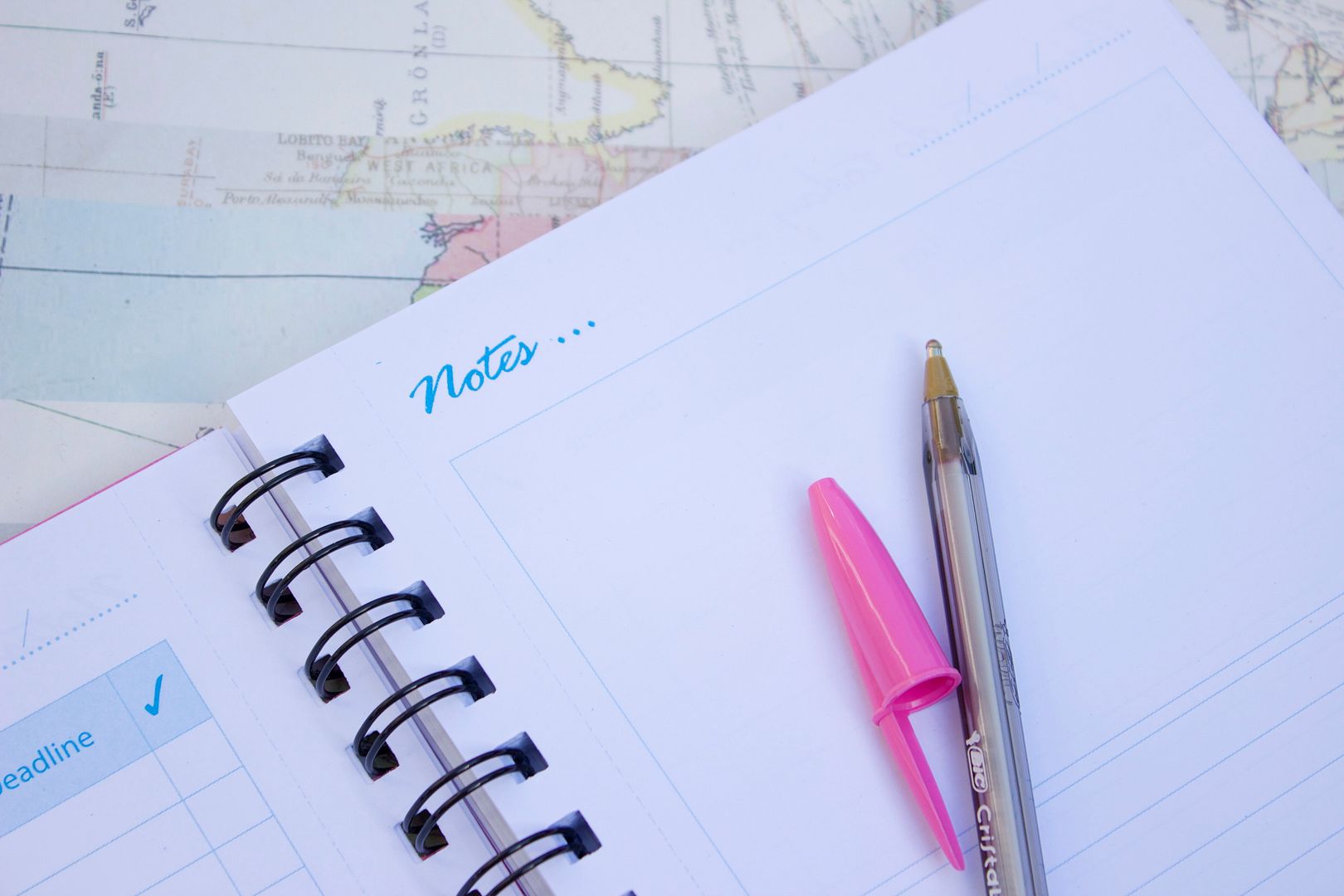 Plan ahead
Whether it's your blog/work or life in general it's always a good idea to plan ahead. With my blog I'm starting to think autumn/winter and Christmas and thinking about what posts I could prepare. You don't have to get it all done right now, just make a few notes here or there or if an idea strikes you then quickly write it down and when you're struggling for a blog post idea you can go back through your notebook and come across loads of ideas!
I was in a real blogging rut not too long ago so I would say that the most important tip is to step back and have a break if you need to. If blogging is becoming more of a chore than something that should be fun and interesting then it's a good idea to take a week or so off so you can gather some inspiration and just relax. It's really not the end of the world if you don't get a blog post up. I'm trying to remind myself of this. If you want to take the day off and go and have some fun then do it!
What are your best organisation and motivation tips? Let me know in the comments, I'd love to hear them!
This post contains PR samples