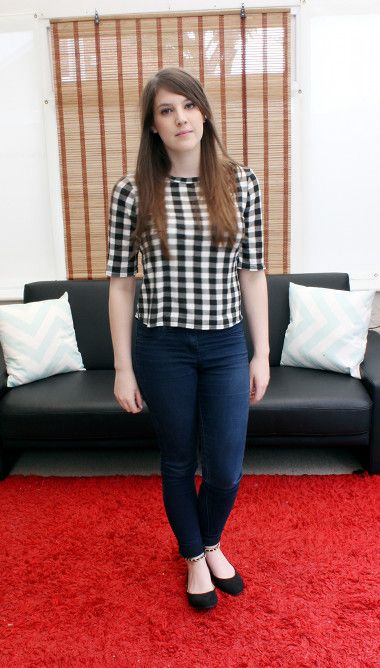 New Look Check Crop Top - £14.99
Matalan Ankle Chain Strap Ballet Pumps - £12
Ahh my lovely long hair! I'm kind of regretting getting it cut right at this moment… anyway, onto the outfit. Not exactly anything to write home about but I really, really like this crop top. It doesn't really come out cropped on me as I'm so short but I just love it. The pattern is perfect and I love the sleeve length too. So far I've just worn it with plain jeans on the bottom as I'm not really sure what else to team it with, I'm quite wary of clashing patterns.
I had such a job searching for these shoes. Matalan never had my size in store or online so I ended up trying on a size 3 and a size 5. The size 3 was too small and the 5 a bit too big but as there's a strap then my feet don't really slip around in them so I went for the size 5 in the end. There's so pretty and the strap gives a little edge to what would otherwise be a plain ballet pump.
Let me know in the comments what you would team the top with!