This post has literally just popped into my very aching head and I think it could become a regular thing, finally! As part of my job at Styleclone.com, I have to write 'Get The Look' posts which means I'm always trawling the fashion websites for Red Carpet looks that can easily be copied on a high street budget. My blog has taken a big beauty direction recently so I thought it might make a nice change for the blog to feature something a little different and you'll be able to see some of my favourite Red Carpet outfits and hopefully be able to copy it yourself!
This week I've decided to feature Megan Fox who wore a pretty festive, red Thakoon strapless dress which is SO easy to copy!
Sometimes the simplest of outfits are the best in my opinion and this one would be perfect for Christmas parties or even a night out. There's no fuss with this dress, you can literally throw it on and you're done! I've tried to recreate Megan's outfit using high-street pieces, as you can see below: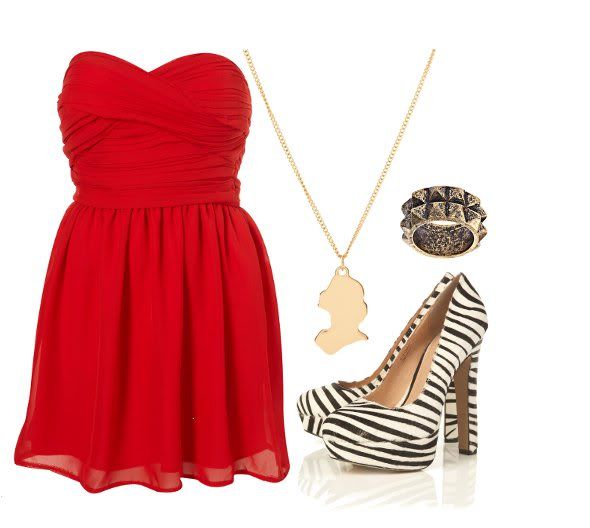 Topshop Chiffon Bandeau Dress by RARE
Topshop SWAGGER Zebra Print Brushed Suede Platform Shoes
ASOS Cameo Cut Out Necklace
ASOS Runge Double Stud Ring
What do you think? Hope you've enjoyed this new little post! Let me know in the comments. :)
Last night I went to my friends baby shower which was fun. I'm a bit rubbish in social situations and with people I don't know but it wasn't too bad. We played some silly games, ate food, opened presents and watched the 4D baby scan that she has. That was pretty surreal to be honest. The image of the baby was really clear and it's a good way to make sure baby looks all OK but I don't think I could justify the £150 for it! It was a fun night for my first ever baby shower experience!
Today I've had a nice lazy day. I managed to write up my first Business review for Guide2WestonSuperMare.com and tomorrow I have two more to do! I've got such a headache at the moment. My mum thinks I might have sinusitis as I do have problems with allergies and I have Rhinitis in my nose already. I could really do without this as well as my head just feels completely stuffed up and a bit painful so I'm making an appointment at the doctors tomorrow. I doubt they'll be able to do anything though, just like with Rhinitis. Typical.
Anyway, I can't believe it's 7pm already. I'm looking forward to a night infront of the TV and some popcorn!
*Images courtesy of FashionScanner.Onsugar.com and Topshop