Glad everyone enjoyed peeking through my shopping bags in the last post. I really enjoyed posting it actually so hopefully it will become a more regular thing! Saying that, I can't go too mad shopping on my budget! Not when I want to save for a place to live!
This week, although only Wednesday, has been a bit crazy. On Sunday, mum and dad went on holiday to Majorca, so I've been left in charge of the house...and the dog. The dog is the biggest nightmare going as he's continuously wondering where mum and dad are. He's nervous and scatty enough already so it's about 100 times worse. The good thing about having the house to myself is that I can cook what I want, watch what I want and pretty much do what I want! Vince has been able to stay round and it's been like our very own place again, which has been nice. I've missed living with Vince since we moved out of Southampton so we're trying to make the most of it!
I'm currently at home on the sofa as I finished work at 4, however, I have to go back in tonight at 9 until 11:30 which is a bit annoying. When you get home from work you just want to crash out on the sofa and get comfy, but when you still have 2 and a half hours of work left, you can't really enjoy it. It's all money at the end of the day though so I won't complain too much, I'm very lucky to even have a job...even if they are planning on making us wears hats as part of our uniform! Cringe.
Not sure if I've mentioned on here yet, but work is literally killing my feet. I'm not used to standing all day so I'm thinking of going for a nice pedicure or a Garra rufa fish spa on Friday, after a nice cooked breakfast!
Anyway, enough of me rambling on, don't you want to see this weeks wishlist? I stupidly put up a different post last week because I forgot what day it was, but this week it's back, back, back!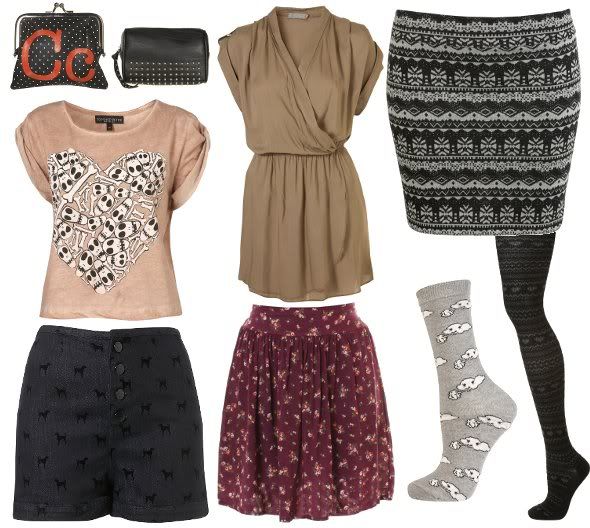 Topshop: Alphabet Letter 'C' Purse, Studded Make-up Bag, Skull Print Tee, Wrap dress by LOVE, Puffy Clouds Ankle Socks, Black Heart Fairisle Tights
LOVE: Ruby Print Skirt
Miss Selfridge: Intarsia Knit Skirt
Ahh yet more Topshop! I was really excited when I saw the new Topshop Unique collection is now available to purchase online, but was left disappointed when I saw the prices! I absolutely LOVE the Flock Dog Denim Shorts by Unique, but they're £65!! Can you believe it?! I'm sure a cheaper copy will come along soon, but it just proves my point about Topshop becoming more expensive, when other highstreet stores are providing Topshop copies.
Most of the pieces in this wishlist seem to be out of stock for some reason, so I'm hoping they come back in soon. I really like the Wrap Dress by Love as it's really my sort of dress. Very casual and great for every day! Be mine please!
The tights/socks and purse/make-up bag are all really cute but probably not things I absolutely desperately need. They might be things I'd pick up on a special shopping trip, when I had quite a bit of extra money. Recently I've been trying to think if I really NEED the things I pick up. 9 times out of 10, I don't, so I put them back. Well done me!
I do hope your all enjoying reading these wishlist posts. In order to create them I tend to just bookmark anything that catches my eye throughout the week, then, when Wednesday comes around I go through everything and rediscover some really nice pieces! I even discovered a 'Petrol' colour version of the wrap dress that's still in stock, woo!